Bagging a fortune with silk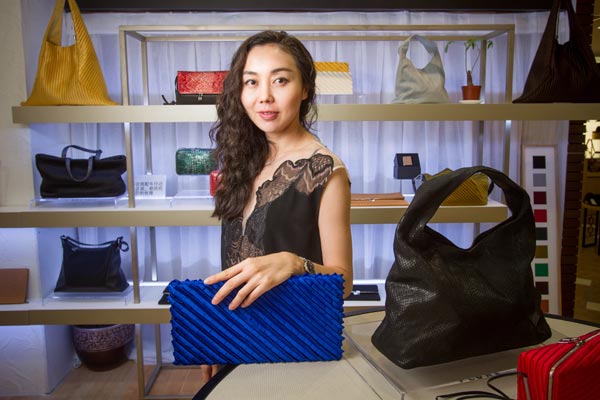 Zhang Xi displays some of the silk bags that are making her a household name among Shanghai's trend setters. Photo provided to China Daily
Chinese Dream
Before she attended university, Zhang Xi was expected to follow in the footsteps of her
art
ist father and become a traditional ink painter. Ins
tea
d, the 35-year-old built a career as an accomplished architect, with a practice in Shanghai. However, her habit of playing with silk has also offered an entry to the world of
fashion
, and she's building a kingdom of silk bags.
Unlike traditional leather bags, Zhang's bags are made of silk, a fragile material often used for clothes and scarves. In her hands, the delicate material is folded and sewn into bricks to form exquisite bags, similar to the process of building a house.
"Bags are miniature architecture. I can design the inner space and exterior appearance, but in an architectural way," she says.
Zhang jokes that she is the best architect among bag designers and the best bag designer among architects
Her architecture studio EXH and her bag brand Plore are her children, with EXH playing the role of a teenager, while the bag business remains in its infancy. The name "Plore" is an extension of EXH, which when combined produce the word "explore", demonstrating her belief that life requires a spirit of endless exploration.
Five years ago, Zhang was playing at folding silk into different patterns and thickness as a means of relaxing when the idea of making silk bags suddenly occurred to her. At the time, most of the silk bags on the market were roughly made, embellished with stitched flowers or birds, and sold to tourists at low prices.
With her passion for silk, Zhang was disappointed that the bags sold to tourists were of poor quality and unsuited to daily use. "Silk should be elegant. I want to use my architectural knowledge to make silk bags that are both strong and fashionable," she says.