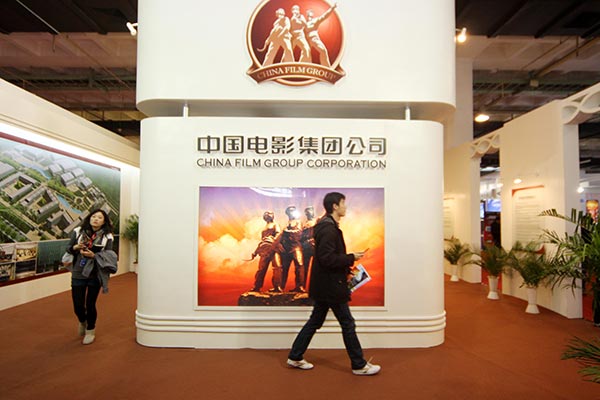 A man walks past the stand of China Film Group Corp in Beijing, Dec 18, 2008.[Photo/VCG]  
China Film Co plans an initial public offering (IPO) later this year when regulators deem market condition is ripe, said a banker from the underwriting team on Tuesday.
Listing process of the country's film behemoth comes after twists and turns. The company has delayed its IPO at least three times, with the latest attempt on hold after last year's A-share rout.
China Film planned to list 467 million shares on the Shanghai Stock Exchange, raising 4.6 billion yuan ($ 714.4 million), it said in a prospectus last July.
About 27 percent of the capital raised would be invested in movie and TV series production, while the company would use 26 percent to build more digital cinemas, according to the filing.
"The securities authority will consider market condition and green light the IPO when timing is ripe," said Xu Jiongming, managing director of CITIC China Securities, the company's underwriter.
The mainland stock exchanges saw debuts of 24 firms in the first quarter, raising a combined 11.7 billion yuan, according to Deloitte. The amount raised fell 76 percent year-on-year due to regulatory control on offering size and pace.
Film investments flourish
Forty percent of the mergers and acquisitions in China in the first quarter happened among cultural and entertainment companies, said Xu.
The flourishing investment activities comes as the actual consumption level for cultural products and services reaches around 1 trillion yuan, according to data of the Ministry of Culture.
China's film market is now world's second biggest, accounting for $6.8 billion out of the $38.3 billion global earnings last year, according to the Motion Picture Association of America.
Beijing Film Capital Committee signed agreements securing a combined credit line of 10 billion yuan with banks including Industrial and Commercial Bank of China, Beijing Bank and Postal Savings Bank on Tuesday at its inauguration ceremony, a sideline event of the 2016 Beijing International Film Festival.