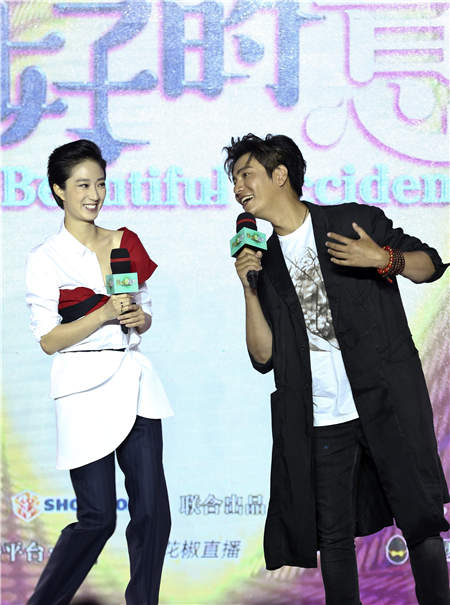 Taiwan actress Kwai Lun-mei and mainland actor Chen Kun, who play the main roles in Beautiful Accident, at a promotional event. Photos by Feng Yongbin/China Daily
Malaysian director Wi Ding Ho once said that shooting a movie is his window to take a close look of life.
Now, the 2010 Taiwan Golden Horse Best New Director winner, who won for his feature debut Pinoy Sunday, seems to be ready to produce something magical from ordinary life with his latest work Beautiful Accident.
The romance drama, which is set for a mainland release on Aug 12, centers on a female lawyer who is single.
After an accident, she finds herself transformed into a housewife with a husband and two children.
The lawyer-turned-housewife is played by veteran Taiwan actress Kwai Lun-mei and the husband is played by Chinese mainland star Chen Kun.
The cast includes Wang Jingchun, who won the best actor award at the Tokyo International Film Festival in 2013.
In the movie, Wang plays a "mysterious" character, who ensures the woman's magical transformation.
"It's not only a fantasy, but it also reflects many people's struggles in real life," says the 45-year-old director, at a recent event to release the film's trailer.
Ho says that the lawyer's journey seeking her real self reflects human confusion in modern society.