For Chartreuse, it's easy being green-and tasty, too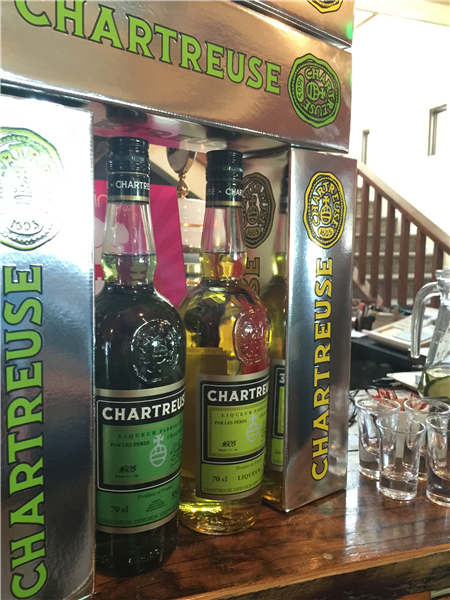 [Photo provided to China Daily]
The monks of the religious order of Chartreuse, who have been distilling a fine green liqueur of the same name for a few centuries, might be horrified by the glass in front of me. It contains their beloved spirit, but untraditionally it shares the space with a goji-berry infused white spirit from Ningxia Hui autonomous region, a big splash of a splendid calvados, and some bitters to counter the sweetness of the other additions.
"Chartreuse has no real history in China," says the French company's CEO, Emmanuel Delafon, who recently visited Hong Kong, Shanghai and Beijing. "But both have a long history, and we think Chinese drinkers will appreciate our quality and tradition."
Delafon hosted master classes for bartenders on the spirit's use, including an event at Caravan, where owner Badr Benjelloun crafted the Chartreuse-goji drink, and also combined the French spirit with oolong tea from Taiwan.
The recipe for Chartreuse itself, a herby green alcohol, is such a closely guarded secret that only two of the monks know precisely how to make it. When I was a kid in America, I was enchanted by the idea that Colonel Sanders' recipe for Kentucky Fried Chicken required 11 herbs and spices - and nobody knew how to duplicate it. Dom Benoit and Brother Jean-Jacques, the two Carthusian monks who know the Chartreuse formula and are never allowed to travel together (except into the distillery), must macerate about 130 herbs, roots, leaves, vegetation extracts and flowers steeped in alcohol for the infusions that end up bottled as neon green liqueur.
The liqueur is based on a formula that once promised long life. In medieval times, when disease and pestilence lurked around every corner and folks were lucky to live into their 40s, long life was a potent promise indeed. Today the spirit's fans include Britain's queen mother, Jon Bon Jovi and Quentin Tarentino, who brandishes a bottle of the green stuff in his film Death Proof, and says chartreuse is "a liqueur so good they named a color after it".