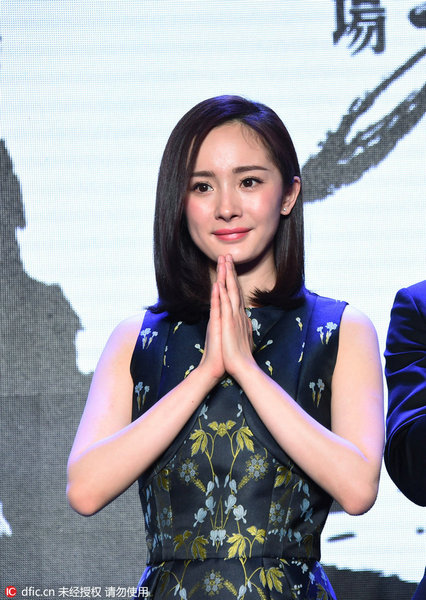 Chinese actress Yang Mi. [Photo/IC]
As the entertainment industry booms in China, celebrities are becoming an integral part of people's cultural life, and even in education. As more and more life stories of pop stars are cited as examples in papers in schools, people's attitude on the matter is becoming increasingly divided.
Exam papers
It's been a while that celebrities started appearing in exam questions and the trend seems to be growing. Musician Jay Chou, actress Yang Mi, actor Du Tao, and even South Korean drama My Love From The Star have all made their appearance in school exam papers, and the list of celebrities is long.
For example, Yang Mi once said in the public that "when you wonder at the sparkling light coming from the fireflies, you haven't seen their wings striking to swing behind their bodies," referring to the enormous effort she paid in order to stand out in acting. This sentence later became part of the background material in exams, based on which students were required to write an article. Meanwhile, lyrics of Jay Chou's songs are also used as exam questions and even textbook content in different regions of China.
The view of the public is divided. Many are happy to see the changes that keep pace with the times and make education more interesting, while others argue that entertainment has nothing to do with education and that such moves would push teenagers to spend more time on entertainment and pop culture and less on studies.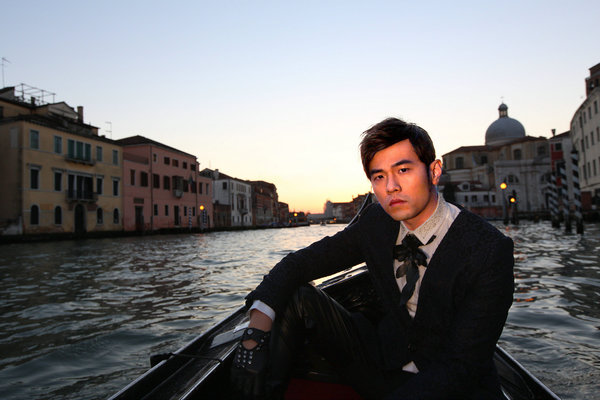 Musician Jay Chou. [Photo/IC]
Prime examples
And it's not just exam papers. Popular TV dramas and stars have also become public examples for safety education. The recent Chinese TV hit Ode to Joy, a drama telling life stories of five girls in Shanghai, is one of them. In the first episode, the five leading characters are trapped in an elevator and one of them presses each floor button in order to stop the elevator from falling, which earned a slew of likes on social media and was cited as a good example for self aid.
Meanwhile, negative examples for public teaching are also commonly seen. In the same drama, one protagonist parks her car in the middle of a road in a rage before her boyfriend drives it away, which drew critics from Hunan Provincial Public Security. The security officers pointed it out as a wrong-doing in their official Weibo account, China's equivalent to Twitter, and stressed that the behavior shown in the TV plot will cause traffic congestion or even fatal accident, calling the public not to follow the example.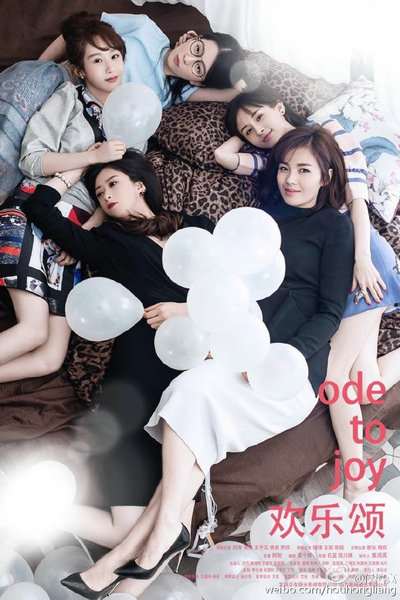 Poster of the TV drama Ode to Joy. [Photo/Mtime]
Another incident that has been cited is of actor Wang Kai taking a selfie on Weibo with him sitting inside a car, with the caption reading "love your life and do not use your phone when driving." The post was immediately retweeted by local security forces reminding him and the public to wear the seatbelt; Hong Kong actor and singer Aaron Kwok was also tagged by the security officers as a wrong example on social media when he posted a picture showing him holding his girlfriend's hand and driving with the other hand.
The increasing number of such examples and discussions reflect the rise of social power and influence of celebrities, which is hard to be taken as simply good or bad. But one thing is for sure - with power comes responsibility. Maybe it's time for the stars to think how to set up a good example for their fans, not only in their work, but also in real life, isn't it?
For more Showbiz Insiders, click here