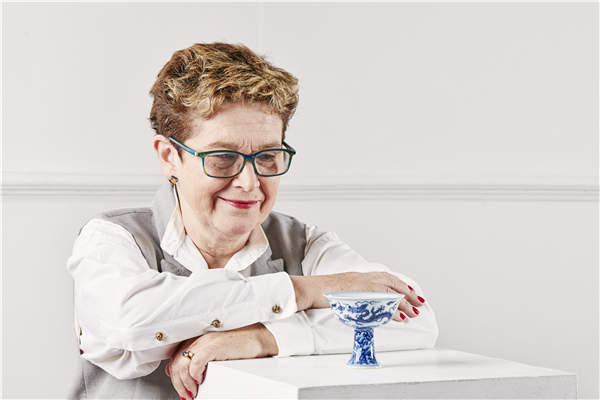 Rosy Crehan, deputy vice-chancellor of Staffordshire University, with the stem cup that will be auctioned to finance a new museum. Photos provided to China Daily
A rare stem cup from the Ming Dynasty is among dozens of Chinese antiques, such as porcelain vases and bowls, jade articles and Ming-style furniture, which will go under the hammer later this month. Lin Qi reports.
A Ming Dynasty (1368-1644) blue-and-white stem cup that once belonged to a British pharmacist will go under the hammer in Hong Kong on May 31. The proceeds of the sale will be used to build a British college museum in Staffordshire.
The cup exemplifies the classical style and buttery luminosity of the porcelain made during the reign of Emperor Xuande, who introduced the mass production of blue-and-white porcelain not only for daily use in his royal court but also for trade and exchange with the rest of the world.
The cup features two five-clawed dragons chasing a flaming ball among the clouds and above turbulent waves. Its interior bears a six-character mark which says "Produced during the Xuande period of Ming".
The cup is to be sold at a joint auction by Lyon & Turnbull, a 190-year-old auction house based in Scotland, and Freeman's, an auction house established in 1805 in Philadelphia, in the United States.
The cup used to be part of the collection of Ernest Thornhill, a London-based pharmacist and collector of Asian ceramics, according to a news release of the sale.
The release says that during the Blitz (1940-41) in World War II, Thornhill entrusted his collection-some 276 Asian antiques-to the then North Staffordshire Technical College which later became Staffordshire University.
He donated the collection, the stem cup included, to the school in 1944 out of gratitude and also for academic studies.