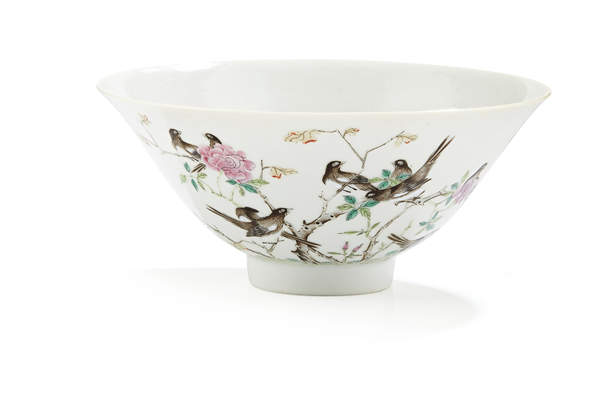 An imperial famille rose "magpies" bowl of the Qing Dynasty (1644-1911).
A similar stem cup from the British Pilkington collection fetched HK$ 22.88 million ($2.95 million) in a Sotheby's sale in Hong Kong, in April.
Rosy Crehan, deputy vice-chancellor of Staffordshire University, says in the release that if the cup is sold, the proceeds will go toward the construction of a new museum in the campus where the rest of Thornhill's collection will be housed.
The upcoming auction will also include dozens of Chinese antiques, such as porcelain vases and bowls, jade articles, Ming-style furniture and other works of art.
A preview of the lots will be held over May 28-30 at Hong Kong's Liang Yi Museum.
The sale marks the maiden entry of the two auction houses into the Asian market with an attempt to reach more collectors.
It will further diversify the art market in Hong Kong, a hub of both international auctioneers, such as Sotheby's and Christie's, and annual events like Art Basel and International Antiques Fair.
Although the sales of Lyon & Turnbull and Freeman's have been attracting Chinese buyers for years, it was in 2015 when they sponsored Asia Week Hong Kong activities that they felt the need to extend their presence in the growing Asian market, according to Richard Cervantes, department head for Asian arts at Freeman's and its vice-president.
The two auctioneers, who have allied to explore the European market, decided to launch a joint venture in Hong Kong, which is a "logical step to better serve collectors" and expand the network in the area, Lee Young, Lyon & Turnbull's international director and head of its Asian art department, tells China Daily via email.