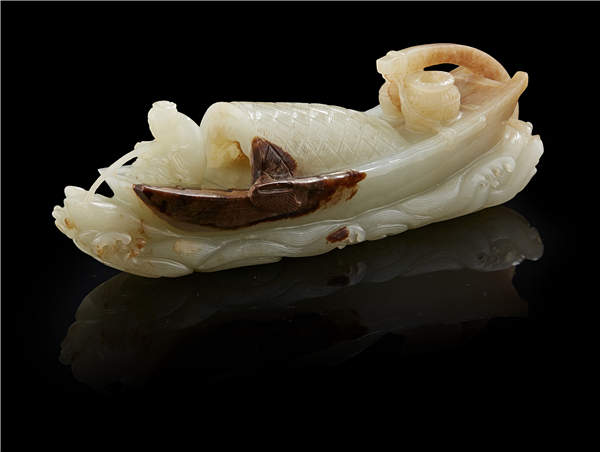 A Qing Dynasty celadon jade carving of a boat.
The works of art to be sold have been in the hands of collectors from the US and Britain for generations.
Cervantes says they believe these items will appeal to buyers in Asia, especially the Chinese who are repatriating cultural goods back home.
Cervantes also recommends a private collection of Chinese huanghuali (a type of tropical hardwood known for its golden color) furniture at the inaugural Hong Kong sale.
"Even as some facets of the market are fluctuating, huanghuali has remained robust and reliable," he tells China Daily.
With many Western collections of quality Chinese works of art appearing in salerooms over the past three decades, market sources say that auctions in Hong Kong, London and New York are facing a dwindling supply of fresh Chinese antiques.
Cervantes says that in the long-term, Chinese works of art will become harder to "discover" among private American and European sources.
"However, we remain optimistic that tastes and trends will change in subtle ways to keep the market fresh, spontaneous and fun to follow."
International auction houses have recently been marketing contemporary Chinese ink art.
Besides, they are offering more Western art and antique objects for decorative purposes to mainland buyers.