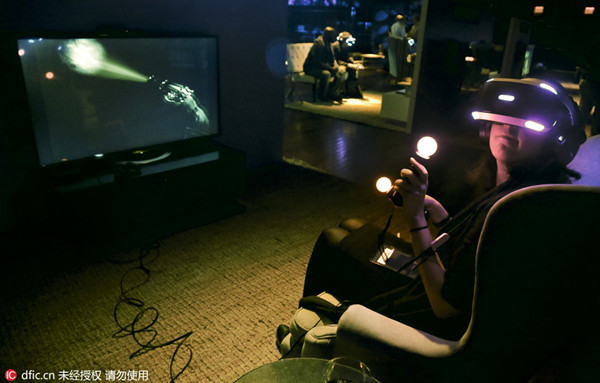 VR films might be the next revolutionary point that changes people's lifestyles in the future. [Photo/IC]
As the concept of VR, or virtual reality, has been one of the most talked about in the worldwide entertainment industry, VR films might be the next revolutionary point that changes people's lifestyle.
"VR videos are the pioneering forces that would popularize the new technology with the general public," said Jing Yu, co-founder of IN2-Immersion Science and Technology, a VR start-up in Beijing, at the Future of Film and TV Industry - Summit Forum on VR Film and 360 Panorama Image earlier this week. As one of key topics during the 6th Beijing International Film Festival, the new technology is drawing much attention from industry professionals.
VR films: Bright future with difficulties and adventures
It's often been heard in the industry that "every one doing VR film is Steven Spielberg". True, the application of this new technology is at its early stage and VR film is still an unknown area to be developed. Everyone is a pioneer, which creates a challenge and an opportunity.
According to Jing Yu, more than half of VR users' want video products, which would be a breakthrough point for the new technology to hit the market
In China, VR videos are mainly applied in three scenarios: movies, variety shows, and live broadcasts, which have led to a remarkable increase in VR headset purchases. Meanwhile the improvement in panoramic camera devices and the extension of video services also shed light on the future of VR films.
"The year of 2016 will be the starting point for VR films," said Jing, whose remarks echo many professionals in the industry.
In fact, investment in VR films has geared up since last year and capital is still flowing in. Earlier this year Enlight Media, one of China's biggest entertainment groups, made an additional investment of 40 million yuan ($6.16 million) on VR technology. It's also reported that Chinese film directors Zhang Yimou and Gao Qunshu are considering producing a VR film and that Chinese celebrated actor Huang Xiaoming plans to invest 1 billion yuan ( $154.1 million) in a VR project.
However, strong financial support cannot guarantee success, and VR film professionals are still facing a slew of difficulties that are hard to solve.
"People have a high expectation for VR films, yet the entire industry reaches a ceiling that restricts its development," said Dong Aijun, CEO of VRision Film, a VR start-up based in Beijing. He said that the major difficulties lie in the technical perspective. The current unsophisticated hardware, lack of standard production procedures, the complexity of data management and the editing process, the different recording format - all make a sharp contrast to people's expectations and put a lot of pressure on industry professionals.