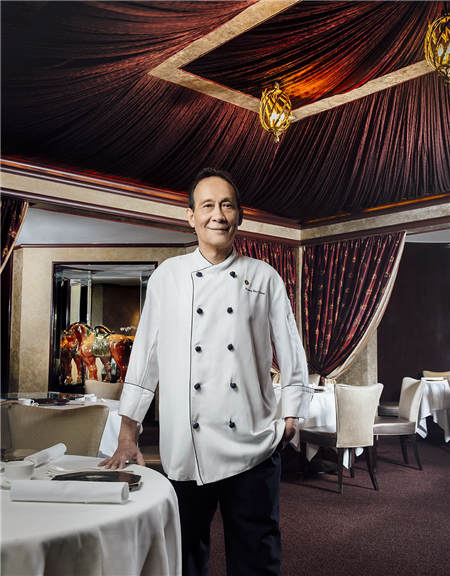 Executive chef Kwong Wai Keung at T'ang Court in Hong Kong, which won a third Michelin star this year. Photos provided to China Daily
Foodies in China, from professional chefs to Joe Hungry, were abuzz this week with the news that the world's most prestigious restaurant guide is finally coming to the Chinese mainland. The Michelin Guide has launched its Chinese website, announcing that it will publish a 2017 guide for Shanghai - and that the first round of Michelin-starred restaurants will be unveiled this fall.
Michelin's long-rumored arrival suggests that the guide, originally created in 1900 as a stimulus for French taxi drivers, has finally found a way to digest the Chinese puzzle.
Guides that debuted in Tokyo (2008) and Hong Kong (2009) did a lot to cement the culinary prestige of those locales and made celebrities of chefs there. This has not been lost on restaurant promoters in China's big cities, who often tout their chefs by describing them as proteges of Michelin-starred uber-chefs abroad. Celebrity toques are regularly invited to the mainland for food-festival events, and many have established satellites of their award-winning restaurants in China.
While the European kitchen wizards with a reputation on the mainland (think Jean-Georges Vongerichten and Umberto Bombana) are obvious targets of Michelin attention, how critics for the guide would assess Chinese cuisine and the attendant dining scene has been a burning question. Would, for example, respect for tradition win more praise in Asia, while European chefs are more readily rewarded for doing something more innovative?
The guide is a selection of the best restaurants in a city, divided into four categories: "bib gourmand" restaurants that offer "exceptional good food at moderate prices"; one Michelin star denotes a "very good restaurant in its category"; two stars for "excellent cooking, worth a detour"; and three for, "exceptional cuisine, worth a special journey". For a high-profile restaurant chef, the only thing more dramatic than gaining a Michelin star is losing one.