Spring Festival, which falls on the 1st day of the 1st lunar month is the most important festival in China and a time for family reunion, like Christmas in the West.
Traditionally, Spring Festival starts in the early days of the 12th month of the lunar calendar and lasts until the middle of the 1st lunar month of the following year. With the modernization of China, some traditional customs are still followed today, but others have fallen by the wayside.
Chinese will celebrate the Lunar New Year on Feb 8 this year, which is also the Year of the Monkey according to the Chinese zodiac. As we are preparing for the most important festival, let's have a review of the traditional customs that celebrate the Spring Festival.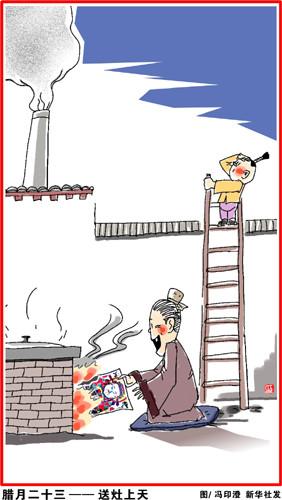 [Photo/Xinhua]
Little New Year, which falls the 23rd day of the 12th month in the Lunar calendar, is also known as the Festival of the Kitchen God, the deity who oversees the moral character of each household.
People make sacrifices to the Kitchen Gold on this day. A paper image is burnt dispatching the god's spirit to Heaven to report on the family's conduct over the past year. The Kitchen God is then welcomed back by pasting a new paper image of him beside the stove.