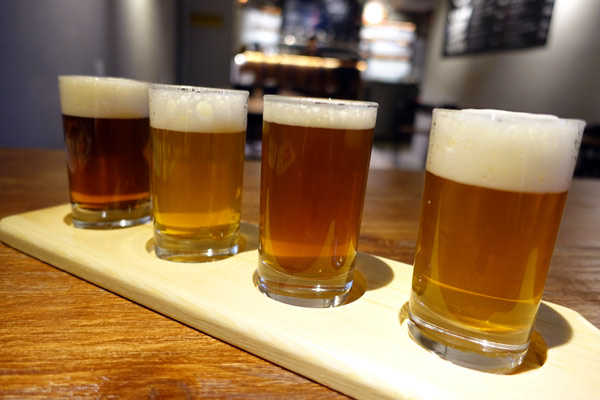 Four-cup set from right to left: Foreplay Pale Ale, Whirling Horse American Pale Ale, Naked Indian Pale Ale and Slow Boat Caption's Pale Ale. [Photo by Dong Fangyu / China Daily]
"Life is as fleeting as flowing water" the Chinese saying goes, and from that a brewing pub called Flow Brew has taken its name, its managers trying to create an oasis where you can relax and forget the world's troubles.
The brewery, which recently opened in the Beixinqiao area of Beijing, is co-owned by three friends who have a common passion of making beer, and who are keen for all the world to know about how they feel about the beverage.
Brian Li, a Beijing local who grew up near the many hutong where Flow Brew is located, is one of the three partners. At the moment, for him making beer is just a hobby, so "I'm happy as long as I don't lose money", he says.
Li was first drawn to imported beers, he says, because they were so different to the Chinese beers Yanjing and Tsingtao.
He became infatuated with craft beer two years ago when he drank a beer called Captain's Pale Ale at the taproom of Slow Boat Brewery, one of Beijing's first craft breweries.
"The instant I drank it, I found it was exactly the eureka moment I was looking for with beer," he says.
Inspired by Slow Boat, he started to patronize many brewpubs in Beijing and with two friends started his own brewing operations in a warehouse in Beijing's outer Western Hills. They did their brewing every weekend for six months, and they eventually decided to start their own craft beer brand.
Flow Brew now has eight brews on tap: three that the partners brew themselves and the rest from other local craft brewers. "We are new to the market, and the limited supply of our own beers alone cannot meet demand," Li says.