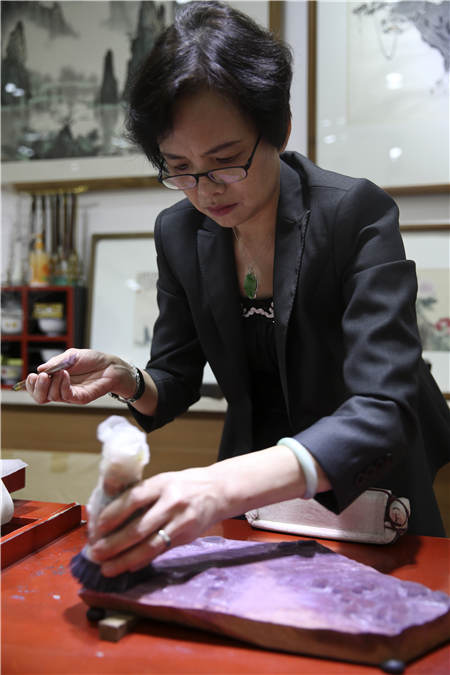 Zhao Huiping, 54, who has been with Rongbaozhai for more than 30 years, finishes the process of printing while duplicating an artwork. [Photo by Feng Yongbin/China Daily]
Rongbaozhai-which means "a room with glorious treasures"-has been in the woodblock printing business for more than 100 years. And it specializes in reproducing the works of Chinese masters on a very small scale using very special techniques. Wang Kaihao reports.
In a hutong area of Liulichang in the south of Beijing, the smell of ink dominates thanks to the stationery stores and shops selling traditional Chinese paintings and calligraphy.
Rongbaozhai, which stands out in a lane with facades reflecting ancient architecture, is a sanctuary for the capital's literary fans.
Founded in 1672 as a paper store, Rongbaozhai took its current name-which means "a room with glorious treasures"-in 1894. It launched its woodblock printing business two years later. Xiao Gang, 57, is the seventh generation practitioner.
He spreads several sheets of papers in front of him like one does when one is doing animation.
But he is not doing animation, but preparing a facsimile of painting guru Qi Baishi's (1864-1957) work.
"Each time I add a detail (to the work I am duplicating), I use a separate sheet," he says referring to a process called tracing.
For color printing, registration is used to correlate overlapping colors on one single image. There are many different styles and types of registration, many of which use the alignment of specific marks.