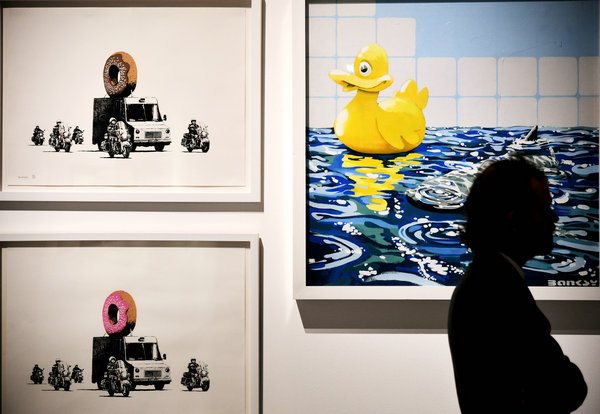 A person walks past art by Banksy, during the Guerra, Capitalismo & Liberta exhibition at Rome's Palazzo Cipolla. [Photo/Agencies]
A major exhibition of Banksy's works opens in Rome and, as ever with the secretive British street artist, there is mystery attached.
What will he make of a project he has not been involved in? Will he show up incognito? If he doesn't approve, will he make his displeasure known on the walls of Rome?
The collection of more than 100 Banksy paintings, prints and sculptures sourced from private collections around the world is being billed by organizers as the first time such a large collection of the artist's work has been brought together in a curated, museum exhibition.
Entitled War, Capitalism and Liberty it runs until Sept 4 at the Italian capital's Palazzo Cipolla.
The organizers are a private, not-for-profit foundation who readily admit that Banksy is not associated in any way with an exhibition being staged in the kind of mainstream art venue he has long shunned.
Perhaps because of that, the exhibition includes a wry nod to the artist's views of the art establishment.
The first work visitors come across is a print of Banksy's image of an arthouse auction with bidders competing over a frame carrying the slogan "I can't believe you morons actually buy this shit."