Beautiful China, a newly opened photo and book exhibition in the tourism resort town of Queenstown, is helping boost China-New Zealand cultural exchanges.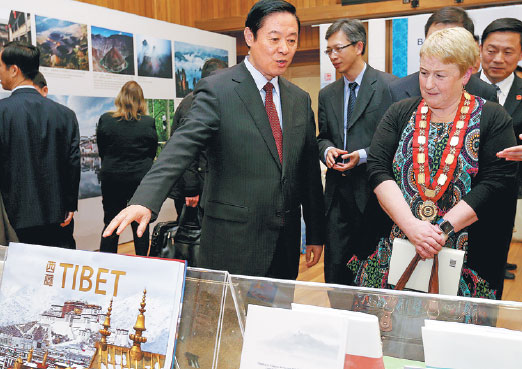 Liu Qibao, head of the Publicity Department of the Communist Party of China Central Committee, and Vanessa van Uden, mayor of Queenstown, attend the opening ceremony of the Beautiful China photo and book exhibition in Queenstown, New Zealand, on Wednesday. Edmond Tang / China Daily
More than 400 books, published in China but mostly in English, will help New Zealand's people and visitors get a better understanding of China in many areas, including politics, the economy and culture, said Guo Weimin, vice-minister of the State Council Information Office.
Liu Qibao, the Communist Party of China Central Committee's publicity chief, attended the exhibition on New Zealand's South Island on Wednesday, the day it opened.
Liu is leading a delegation of senior cultural officials who are visiting New Zealand from Tuesday to Thursday. Prime Minister John Key met with the delegation on Tuesday.
The exhibition will introduce the English-language version of Xi Jinping: The Governance of China, to Queenstown's people and visitors, Guo said during the exhibition's opening ceremony on Wednesday.
During the meeting with New Zealand's prime minister, the two countries reached "important consensus" on cultural exchanges, Guo said.
New Zealand is the first country to sign intergovernmental film and television co-production agreements with China.
Vanessa van Uden, the mayor of Queenstown, said the city has witnessed enhanced cultural exchanges between China and New Zealand in recent years.
"The number of Chinese tourists to Queenstown has increased rapidly in recent years during my term as the mayor of this city," she said at the ceremony.
The exhibition is expected to help local people know more about China, and New Zealand could learn from China's experience in preserving history and protecting historical sites, she said. As part of the exhibition, about 70 photos focus on perspectives including world heritage in China, intangible cultural heritage and the unity of humans and nature. Geoff Marks, business development executive at Lake Wanaka Tourism, said that the exhibition is a good way for New Zealand's people to understand China.
"After seeing the beautiful photo of Wulingyuan (in Hunan province), I have dreamed of visiting that place," said Marks, who has been to China five times and has visited such cities as Shanghai, Guangzhou and Chengdu.
Marks said that in recent years he has witnessed an increasing number of Chinese coming to New Zealand. The photo and book exhibition will inspire more New Zealanders to visit China, he added.
anbaijie@chinadaily.com.cn