Both first ladies name panda cub Yuan Meng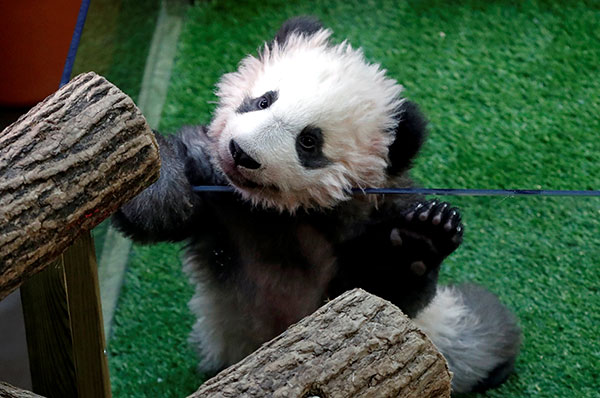 Panda cub Yuan Meng on Monday. BENOIT TESSIER/REUTERS
When French first lady Brigitte Macron was having a close look at her "godson", the 4-month-old male cub attacked her several times, making her step away, still smiling, from the baby panda's enclosure.
Macron, who agreed to become the godmother when the cub was born in August, was attempting to pet it over a glass wall, which caused the animal to suddenly jump toward Macron. It barked and growled at the first lady, wife of French President Emmanuel Macron, in the panda garden at ZooParc de Beauval in Saint-Aignan, central France, about 200 kilometers south of Paris.
This took place shortly before the French first lady joined Zhang Yesui, vice-foreign minister, in announcing the baby panda's name on Monday. It was jointly named by Chinese President Xi Jinping's wife Peng Liyuan and Brigitte Macron as Yuan Meng, or Dream Fulfilled in English.
Peng sent a congratulatory message for the naming ceremony, saying she hoped the baby panda could bring more joy, excitement and happiness to French children and families.
"The birth of the baby panda is a symbol of the bright prospects of the Sino-French relationship," Peng wrote in her congratulatory letter, which was read by Zhang.
Brigitte Macron said in her public speech, her first since becoming first lady, that the ceremony is a good warmup for her husband's upcoming state visit to China, whose date has not yet been released.
The naming ceremony kicked off the 8-kilogram cub's public debut. Long lines of French people waited to have a look.
Former French prime minister Jean-Pierre Raffarin and Chinese Ambassador to France Zhai Jun also attended the ceremony.
During the ceremony, Yuan Meng's mother Huan Huan slept next-door and his father Yuan Zi snoozed in the open air. Huan Huan and Yuan Zi arrived at the zoo in 2012 on a 10-year loan from China.
About 1,800 pandas are thought to live in the wild in China and some 400 in captivity around the world. Panda cubs born abroad are on loan, like their parents, and must return to China for its breeding program before age 4.
fujing@chinadaily.com.cn