Sick panda remains in critical condition
The Chengdu Research Base of Giant Panda Breeding in Sichuan province has been treating a sick panda found in the woodhouse of a village official in the province's Hongya county since Thursday evening.
The female panda aged between 16 and 20 is still not out of danger, according to Pu Anning, chief of the base's general office.
The panda is between 48 and 60 years or 64 and 80 years in human terms because researchers have different evaluation standards for the age of a panda.
To some, one year of a panda's life is equivalent to three years for a human being. Others, however, think it is four years for a human being.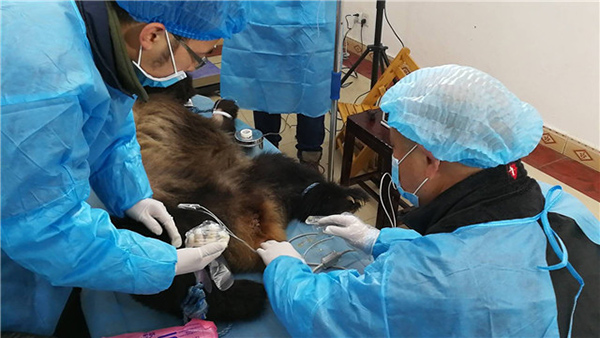 A wild giant panda undergoes an emergency medical procedure in Meishan city, Sichuan province, but is still not out of danger.
At 3:20 pm on Thursday, a dog of Li Wanfang, Party secretary of Changhe village in Wanwushan town in Hongya, started barking. Li found a panda lying in a pit in his woodhouse.
The panda's forefeet were missing and it had old fractures in its two ribs and breastbone.
It is very difficult for a senior panda wounded in the wild to survive. The panda was malnourished. Perhaps it had not eaten anything for several days when it was found, said Yang Zhi, chief of the epidemic disease prevention and control department of the Chengdu panda base, who arrived at the scene on Thursday evening.
The panda had many parasites in its abdomen and gastrointestinal tract and its liver was damaged. Its conditions improved three and a half hours later after it was given antibacterial and anti-inflammatory treatment and provided with water and electrolytes.
Early on Friday, it was sent to Dujiangyan, a city in Sichuan where the Chengdu panda base has a base, for further treatment, Pu said.

Editor's picks