Gates is added to top-tier Chinese academy
Microsoft co-founder Bill Gates has been elected to the Chinese Academy of Engineering, one of the nation's top scientific think tanks.
He is among the 18 newly elected foreign academics at the academy, which already had 48 foreign members, the academy said on Monday.
The academy and the Chinese Academy of Sciences are China's two top think tanks that advise government and industry on key scientific and technological issues.
"Foreign academics can help enhance China's cooperation and exchanges with top engineers and research institutes worldwide," Zhou Ji, president of the engineering academy, said on Monday.
US billionaire Gates, 62, was nominated by the academy's engineering management department for his work as chairman of TerraPower, a nuclear reactor design company he co-founded in 2008.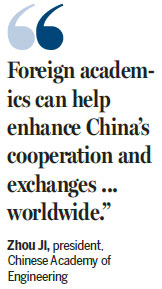 He is the only nonacademic foreign academician elected this year. Among the foreigners who receive China's highest academic honors, 10 come from the US, three from the UK, three from Australia, one from Japan and one from Russia.
Foreigners are eligible for lifetime membership to the academy if they have contributed to the development of or played an important role in promoting China's engineering, science and technology, the Chinese Academy of Engineering says on its website.
The academy hosted a ceremony in Beijing on Monday honoring 67 new domestic academicians, with an average age of 56. New domestic and foreign academicians are selected every two years from academic institutions, research institutes, enterprises and hospitals.
Eighteen of them are researchers and engineers working in enterprises and hospitals, including Wu Guangfei, vice-president of Commercial Aircraft Corp of China Ltd and the chief designer of the C919 - the domestically built airliner; as well as Dai Houliang, president of China Petrochemical Corp, who is also a petrochemical engineer.
"Being an academician means that I need to take the lead in mastering the latest technologies and conducting research that can potentially help more people. It is a responsibility rather than a title," said Qiao Jie, a gynecologist and obstetrician at Peking University Third Hospital.

Editor's picks