China, Japan officials exchange views on security issues at 15th dialogue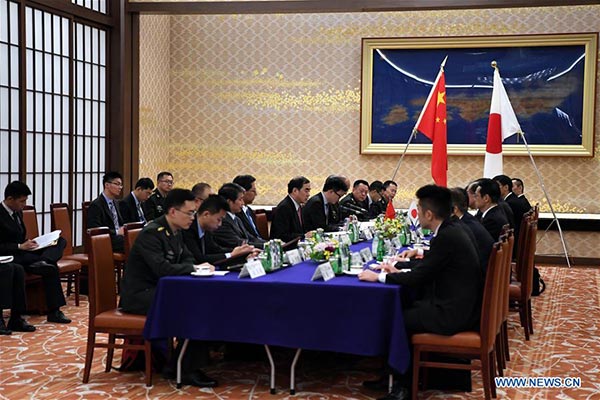 Participants attend the 15th China-Japan Security Dialogue in Tokyo, Japan, on Oct 27, 2017. Senior diplomats from China and Japan have exchanged views on a number of security issues at the 15th China-Japan Security Dialogue held in Tokyo. [Photo/Xinhua]
TOKYO - Senior diplomats from China and Japan have exchanged views on a number of security issues at the 15th China-Japan Security Dialogue held in Tokyo.
Chinese Assistant Foreign Minister Kong Xuanyou and Japanese Senior Deputy Minister for Foreign Affairs Takeo Akiba, co-chaired the dialogue on Friday which was attended by foreign affairs and security officials of both countries.
Kong also met with Japanese Foreign Minister Taro Kono during his visit.
Kong told Kono that Sino-Japanese relationship has seen a number of positive interactions recently but is still faced with complicated factors.
As this year marks the 45th anniversary of the normalization of China-Japan diplomatic ties, and next year will be the 40th anniversary of the signing of the China-Japan Peace and Friendship Treaty, Kong urged the two sides to take the opportunities to overcome obstacles and interruptions and consolidate the momentum of the improvement of bilateral relations.
Kono, for his part, offered congratulations on the success of the 19th National Congress of the Communist Party of China (CPC), and said that Japan attaches importance to its relationship with China and is willing to make joint efforts with China to improve and develop bilateral relations.
During the security dialogue, the two sides exchanged views on the regional and world security situation, security policies of China and Japan and bilateral security communication and cooperation.
The Chinese side said that China, as always a participant and facilitator of international peace and stability, will steadfastly adhere to the path of peaceful development and call for fostering a vision of common, comprehensive, cooperative and sustainable security.
The Chinese side also said China has also expressed concerns on Japan's movements in the security and military areas in recent years, hoping that Japan sticks to peaceful development and plays a constructive role in regional peace and stability.
The Japanese side briefed their Chinese counterparts on Japan's defense and security policies, saying Japan will continue to be a peaceful country and stick to the "defense only" posture and the Three Non-Nuclear Principles.