Mobike touts bike-sharing scheme in LatAm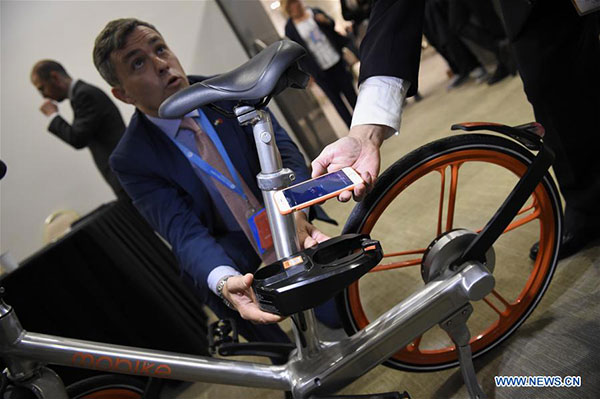 A representative of the Chinese bicycle-sharing company Mobike presents a unit to the representatives of the media, during the 11th China-Latin America and the Caribbean (China-LAC) Business Summit at the Punta del Este Convention Center, in Punta del Este, Uruguay, on Dec 1, 2017. [Photo/Xinhua]
PUNTA DEL ESTE, Uruguay - Mobike, one of China's leading bicycle-sharing program operators, is promoting its system in Latin America.
Curious attendees circled a display of bikes, took pictures and even took them for a spin on the first day of the 11th China-Latin America and the Caribbean (China-LAC) Business Summit held in the Uruguayan resort Punta del Este on Friday.
Mobike, which emerged in 2016 and now operates in about 180 cities, mainly in China but also abroad, has introduced a spate of design innovations to make their bikes more user-friendly, including airless puncture-proof tires, shaft transmission system, solar-powered PV panel on some models to power the bike and a patented durable disc brake that can run for more than 10,000 km without failing.
After taking one of the bikes for a ride, Uruguayan agricultural engineer Daniel Palomares said he liked the bike-sharing arrangement and its benefits.
"It's necessary in many areas so we can all live in a much more sustainable economy, in a much more sustainable environment, able to share among us things that we aren't using at a given moment and that someone else can use without each of us having to have the same thing," said Palomares.
Mobike spokesperson Yang Zhongjie told Xinhua: "We want to expand in the international market, as well as in China."
"We hope everyone uses the bicycles to help reduce environmental pollution and improve environmental conditions," he added.
The program has more than 200 million registered users in China, where it operates a fleet of more than 7 million bikes that make up to 30 million trips a day.
Nationwide, China had 18.9 million users of shared bikes at the end of 2016. The number is expected to hit 50 million by the end of 2017, according to China's E-Commerce Research Center.
The sharing economy is gaining ground and having an impact. As of August 2017, Mobike users alone had collectively pedaled some 5.6 billion km, replacing some 350,000 autos on the roads a year or cutting more than 1.26 million tons of carbon dioxide emissions, according to calculations by World Wildlife Fund.