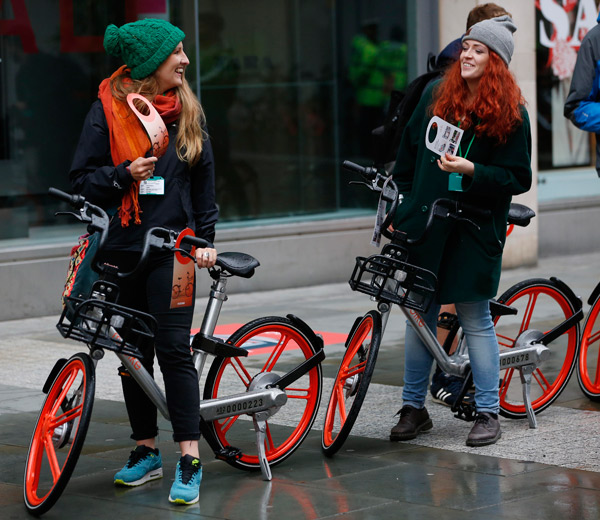 Residents try out Mobike cycles in Manchester, June 29, 2017. The city was the first stop in Mobike's foray into the European market. [Photo/Xinhua]
China's Mobike, the world's largest bike-share platform, has entered a partnership deal with British Cycling in a bid to inspire two million people to get on a bike by 2020.
To mark the collaboration, Beijing-based Mobike has unveiled Newcastle as its third United Kingdom city where it will roll out 1,000 of its grey and orange bicycles next month.
Mobike launched its dockless bike-share scheme in the UK earlier this year, in Manchester and in West London.
As part of their collaboration, British Cycling and Mobike will engage with local communities and businesses to encourage greater bike use.
British Cycling will support Mobike in its aim to enter 15 British towns and cities during the next 12 months, allowing users a more active form of affordable travel.
"Mobike will help us achieve our shared goal of getting people back on their bikes," said British Cycling's Chief Executive Julie Harrington.
Steve Pyer, UK general manager for Mobike, said the company was looking forward to operating in Newcastle.
"We are once again launching in a city where there is a real commitment to get people on bikes," said Pyer.
Mobike's bicycles can be parked without the use of a dock. Bikes are unlocked by scanning a QR code with the Mobike app. New users pay a promotional deposit of 29 pounds ($38.50), and rides cost 50 pence for 30 minutes.
"This is an innovative and exciting scheme, which has a proven track record," said Arlene Ainsley, cabinet member for transport and air quality at Newcastle City Council. "We need people to think about how they travel and, where possible, choose alternatives to the car.
"We believe that the launch of Mobike in Newcastle will enable more people to make that choice."
angus@mail.chinadailyuk.com