Mobike CEO: No chance of merging with Ofo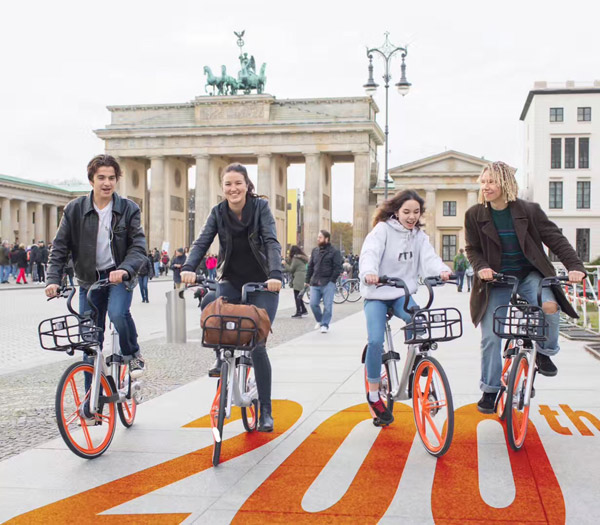 Local residents ride Mobike's shared bikes in Berlin, Germany. [Photo provided to chinadaily.com.cn]
Wang Xiaofeng, co-founder and CEO of China's leading bike-sharing company Mobike Technology, said there was no chance of merging with its major competitor Ofo Inc on Wednesday.
In his speech themed "the internationalization of Chinese enterprises" at the Year Ahead Summit hosted by Bloomberg Businessweek, Wang said Mobike has been focusing on product differentiation and users' emotional connections with the brand rather than a merger.
Wang believed there is no need to consider other things if a company can do a good job on two fronts - product differentiation and branding.
"Without a strong differentiation from similar products, the users will eventually abandon you," he said. "If an enterprise can make more efforts in improving its products and brand, it will win the favor of customers."
"People mention mergers a lot because these two things are not perfectly done by the companies, therefore they are not able to survive independently," he added.
In September, Zhu Xiaohu, founder of GSR Ventures — who have led investments in Ofo — proposed a merger between Ofo and Mobike, as the two companies have secured a combined 95 percent of the Chinese bike-sharing market.
Zhu said a merger was the only way to make profits.
Competition between Mobike and Ofo has been fierce, and both have made ambitious global expanding plans.
With 700 bikes launched in Berlin on Nov 22, Mobike has expanded to 200 cities in 12 countries worldwide, according to Wang.
On Wednesday, Ofo announced an agreement has been reached and its shared bikes are being transported to India. The company has entered 19 countries so far, according to Xinhua.
Hu Xinyi contributed to the story.