Renowned sneaker designer has 'million-yuan' hands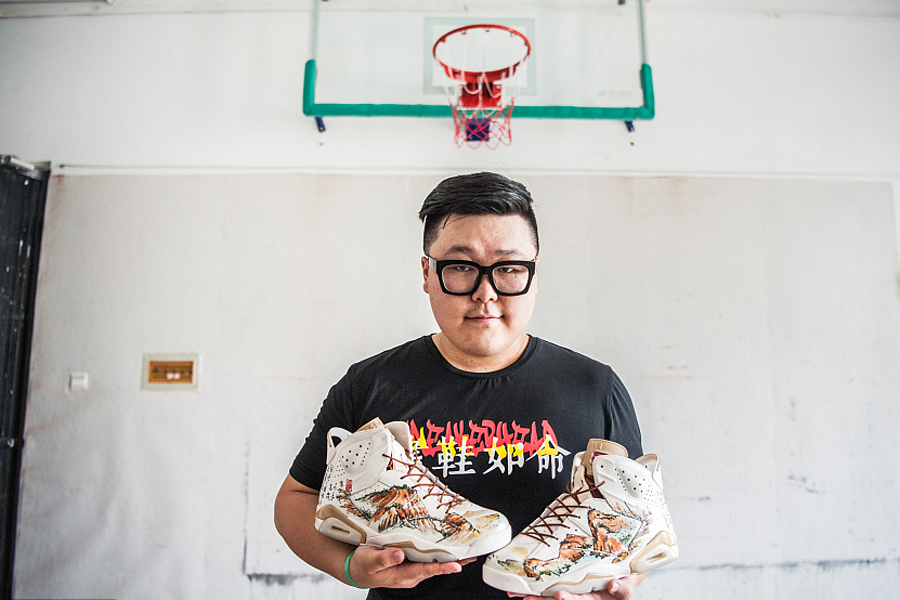 Luo Han, a sneaker designer, holds a pair of sneakers he redesigned in Beijing on June 13, 2017. [Photo/VCG]
In his 300-square meter studio located in Songzhuang, an art community in Beijing's eastern suburbs, Luo Han, a sneaker designer, was busy recoloring a pair of branded shoes in accordance with a customer's request.
From design, stripping the shoes' skin, underpainting to coloring, it takes anywhere from two days to a month for Luo and his team to finish a redesign for a pair of shoes.
"Shi xie ru ming", the four Chinese characters printed on Luo's T-shirt, mean "love shoes like life itself".
To guarantee he does his best work when designing sneakers, Luo purchased a 1 million yuan ($151,566) insurance policy for his hands.
Back in 2011 when Luo had just graduated from university, he posted a photo of his graduation project, "Doomsday Shoes", on some major online forums. The photo got comments and retweets from tens of thousands of people, some of whom even invited him to redesign their shoes for them.
After changing his job several times, five years ago Luo finally decided to focus on his interest and opened an online store to sell custom-designed shoes.
His team has since expanded, as many fans came to his studio out of admiration to learn from him.
The design fee for a pair of shoes from his studio ranges from 600 to 1,500 yuan.