Mobike pedals to 200 global cities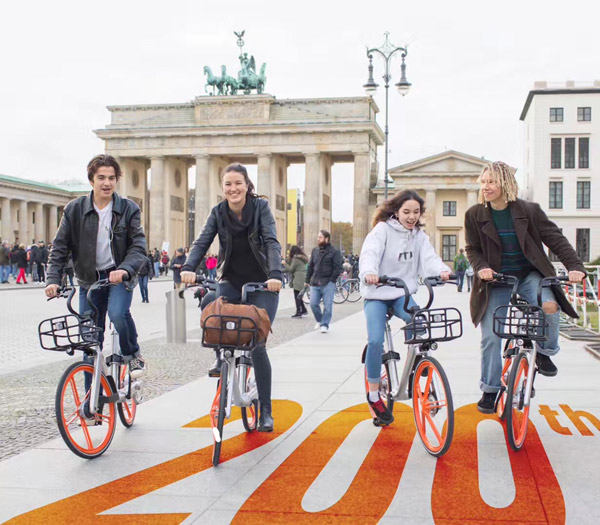 Local residents ride Mobike's shared bikes in Berlin, Germany. [Photo provided to chinadaily.com.cn]
Chinese bike-sharing titan Mobike Technology announced Wednesday its operations in Berlin, Germany, meeting the company's ambitious goal of expanding to 200 cities globally by the end of this year.
Mobike founder and President Hu Weiwei said Mobike will add value to German cities with its collaborative and sustainable approach, enabled by the internet of things and custom-engineered bikes.
"Bicycles mean less air pollution and more climate protection, a better quality of life in our cities, improved health through exercise, greater economic potential for local businesses and improved mobility for all."
The Beijing-based company will initially operate the GPS-enabled shared bikes on Berlin's road, where users are able to take rides by simply scanning the QR code via downloaded apps. The company said it will soon pedal to more cities in Germany.
Chris Martin, vice-president for Mobike's international business, said Berlin is an ideal location to introduce the bike-sharing service in Germany, as the bicycle was invented in Germany 200 years ago.
"We look forward to delivering on our mission to improve city residents' quality of life. "
Currently, Mobike has deployed more than 7 million orange-hued dockless bikes in 200 global cities and has over 200 million registered users, according to company figures.
Mobike's archrival Ofo Inc is hatching a global expansion too, as it previously announced plans to enter 200 cities in 20 countries around the globe by the end of this year.
Ofo's yellow shared bikes are now crowding the roads in more than 200 cities across 18 countries.