Art of success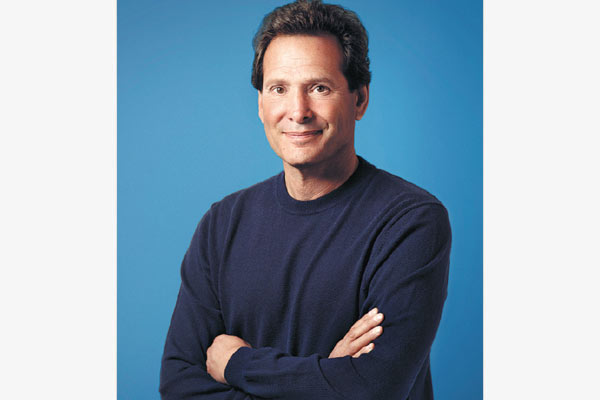 Dan Schulman, chief executive officer of PayPal Holdings Inc.[Provided to China Daily]
CEO turns PayPal into key player in China with the help of his martial arts philosophy
When you meet softly-spoken Dan Schulman for the first time, it is hard to imagine that he is a hardcore martial arts fan.
The chief executive officer of PayPal Holdings Inc regularly practices krav maga, which is a military self-defense program developed for the Israel Defense Forces.
"In martial arts, the overriding philosophy is the best way to win a fight is to avoid a fight," he stressed.
Many would say this has been a cornerstone of his philosophy and has helped him deal with PayPal's split from parent company eBay Inc back in 2015.
More than 24 months later, the online global payment firm based in the United States reported a 22 percent surge in revenue to $3.24 billion in the third quarter compared to the same period in 2016.
Last year, PayPal processed more than six billion transactions with payment services worth up to $354 billion.
"The benefits (of) being an independent company have been obvious," Schulman said.
In the two years from 2013, the company bought mobile payment platform Braintree and its mobile application Venmo in the US, as well as digital money transfer business Xoom and mobile payment startup Paydiant.
"PayPal has 218 million active account holders (and is) available in more than 200 markets around the world," the company stated on its corporate website.
"The PayPal platform, including Braintree, Venmo and Xoom, enables consumers and merchants to receive money in more than 100 currencies, withdraw funds in 56 currencies and hold balances in their PayPal accounts in 25 currencies," it added.
Naturally, China is a vital strategic market for PayPal.
The company has defined its goal here as helping Chinese businesses participate in the global e-commerce market and expand their international presence.
"We take (the) friction out of cross-border transactions," Schulman said.
In a far-reaching interview with China Daily, he talked about the company's vision and its strategy in China, as well as his love for martial arts.
People mill around the PayPal booth at the Money 20/20 conference in Las Vegas, Nevada, the United States. BLOOMBERG
Has the split from eBay produced benefits or difficulties for PayPal during the past two years?
Breaking away from eBay has to be considered a major success. It was also necessary.
At first, it was difficult when it came to logistics. We had to take apart data centers and recreate internal systems.
But once we got beyond the opening nine months, the benefits of being an independent company became obvious. We are now a truly neutral third-party platform.
This means there is not a single merchant or partner out there that thinks we are competing directly against them (through eBay).
We are able to think clearly about what value PayPal provides. And we must evolve as a company to take advantage of the rapid move toward mobile e-commerce payments.
Why did PayPal decide to go into partnership with Baidu Inc during the summer?
The strategic partnership links a large and global merchant network outside of China with the consumer strength of Baidu here.
With them, PayPal will be able to offer millions of international merchants increased access to (more than) one billion consumers in China. They will be able to search, shop and discover the world through Baidu.
Of course, Baidu Wallet (the search engine's mobile payment app) benefits PayPal when combined with access to 17 million merchant accounts.
This also serves as an extension of PayPal's previously announced partnerships with Alibaba (Group Holding Ltd) and (China) UnionPay.
What plans have you made for the Belt and Road Initiative?
At this year's Cross-Border E-Commerce Conference, we unveiled two major value-added services-the In-Context Checkout and the PayPal Merchant WeChat Account.
They will help Chinese merchants strengthen their business capacity in the face of constant changes in market trends, and the tremendous opportunities thrown up by the Belt and Road Initiative.
What are the prospects of PayPal obtaining a third-party payment license in China?
We did apply for a full license several years ago. At the same time, we fully realized it was a complicated process, which we needed to go through.
But as we have evolved since the license filing, we realize that the place where we can add real value is in cross-border (transactions).
Would you elaborate more about your cross-border business in China?
Today, predominantly, what we brand in China is cross-border services. It is one of the fastest growing parts of PayPal's overall (operations).
More than 23 percent of our business is cross-border and one third of all PayPal customers-that is about 200 million-have purchased from a Chinese merchant in the past year. That means about 65 million people have done that.
Our No 1 corridor is the US to China with American consumers buying from Chinese merchants.
What are the advantages of using PayPal for cross-border transactions?
We take that friction out of cross-border transactions because we have so much data and information. We look at every one of those transactions, and we learn to create very sophisticated modeling and algorithms.
But it is very difficult for consumers to know who they are buying from and how small businesses can establish brand trust.
We are rapidly improving our risk modeling tool to be able to help on those fronts. That is why almost 80 percent of consumers prefer to use PayPal on cross-border transactions.
The company has been globally active in acquiring mobile payment firms, but are there any plans to do that in China?
We have a very strong balance sheet. We have $6 billion in cash and no debt. We (also) project we'll generate $3 billion in free cash flow this year.
Using that balance sheet to further grow our ambitions would seem to make sense. We will look at companies that fit into our (profile).
Do you plan to roll out artificial intelligence?
Whether you call it artificial intelligence, AI, machine learning, neuro-networks or sophisticated algorithms, you are taking advantage of massive sets of data. We have all been using some form of that in our business for quite a while.
It is just getting more and more sophisticated.
AI is an evolution more than a revolution. There has been a lot of modeling and algorithms, utilizing very sophisticated and large sets of data. This has helped drive value propositions for consumers.
Baidu has tremendous capabilities in search and AI. The ability to utilize those (assets) in connection with our platform can provide tremendous value to our mutual customers.
What do you admire about martial arts and is there a philosophy behind it?
I practise five to six times a week for up to 90 minutes. It allows me to operate in a calm and focused manner under times of intense stress.
The overriding philosophy of martial arts is that the best way to win a fight is to avoid a fight. I do not believe that without martial arts I would be such an effective leader as I am today.
CV
Age: 59
Nationality: United States
Career:
Sept 2014 onward: President and CEO of PayPal
2010-2014: President of Enterprise Growth, American Express
2009-2010: President of the Prepaid Group, Sprint Nextel Corporation
2001-2009: CEO of Virgin Mobile USA Inc2000-2001: CEO of Priceline.com
1981-1999: President of Consumer Division, AT&T
Education:
Undergraduate degree in economics from Middlebury College.
MBA from New York University