JD to replace humans with robots in on-campus parcel delivery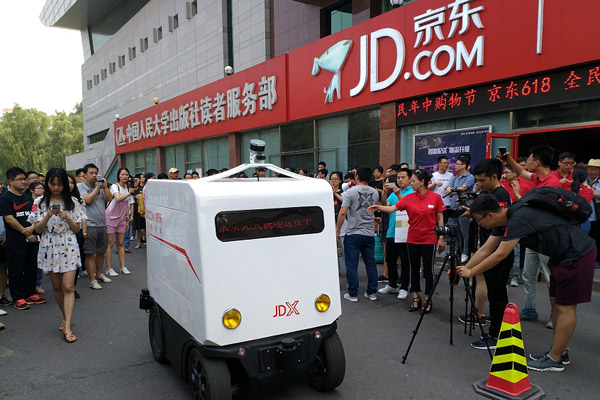 JD's unmanned small-sized driverless vehicle is pictured on June 18, 2017. [Photo provided to chinadaily.com.cn]
China's B2C e-commerce giant JD.com plans to hand over its parcel delivery in more than 100 universities in Beijing "all to robots" starting next month, said its founder Liu Qiangdong on Monday.
Liu revealed this plan on the JDDiscovery conference jointly held by JD Finance, the finance arm of JD.com, and leading venture capital firm Sequoia Capital. He added that the earliest trials of using such delivery robots within campuses of Tsinghua University and Renmin University dated back to as early as almost one year ago.
The robot Liu referred to is a small "driverless vehicle" that delivers parcels from a JD-pai, an on-campus logistics and experience center, to a location where a student could pick up his or her parcel after receiving a text message, a public relation employee surnamed Yang told chinadaily.com.cn on Tuesday.
Liu said at the conference that he hopes JD's development of artificial intelligence will not make its employees lose their jobs but make them do "better jobs", in addition to enabling each industry to improve efficiency, cut costs and improve consumer experience.
"I hope one day, my brothers do not need to go to the street to deliver goods under the burning sun, or bracing the cold wind or the heavy snow or the smog and they could just sit in offices, monitoring millions of drones, delivery robots, 800 logistics centers, tens of thousands of driverless vehicles and 20,000 to 30,000 unmanned delivery centers.
JD has built an unmanned B2C warehouse in Shanghai, which could now handle tens of thousands of orders on a 24-hour basis.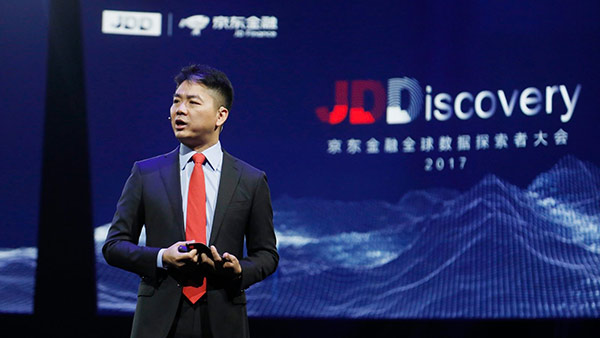 Liu Qiangdong, founder and CEO of JD.com, makes a speech at the JDDiscovery conference in Beijing on Nov 6, 2017. [Photo provided to chinadaily.com.cn]
"Do not forget that in the past all unmanned warehouses in the world were B2B, which meant there were only very limited orders each day," said Liu. He added that there is not a single person in the Shanghai warehouse and it is 100 percent managed by robots and AI.
In the second quarter of this year, JD had 500 logistics centers nationwide with 5.3 million types of goods under management, said Liu.
"It was impossible to manage these warehouses purely relying on humans, so nearly half of these 5.3 million stock keeping units (SKU) were 100 percent managed by artificial intelligence, which predicted sales, did purchasing to supplement the stock and managed the very complicated three-level intra-warehouse logistics.
"This made our inventory turnover days of these 530 SKU 30-plus days and we firmly believe we would have 10 million SKU and 800 logistics worldwide in the next three years and we hope the turnover days could be under 20," said Liu.
"When we achieve this, we could provide huge supply chain management value for all our partners worldwide and all brand owners on our platform," Liu added.
He also said that JD's tests of its drones have reached 170,000 hours by Sunday and its newest drones could fly as far as 240 kilometers.
"We hope, within three years, our heavy drones can fly as far as 500 to 1,000 kilometers and can carry one to two tons of goods and in the long term, hopefully, each could carry 20-ton goods," said Liu.