Chinese bike-sharing company Mobike ranked 14th among the top 50 of Prophet Consultancy brands list, being the only internet travel company entering the list this year.
The list has identified the brands that Prophet Consultancy "simply cannot imagine living without." Among these top 50 brands, Alipay and WeChat ranked first and second respectively.
As the only bike-sharing company making it to the list, Mobike has also won first place in traveling industry, according to Prophet.
Mobike is known as the first choice for people's 'last one kilometer' transportation, according to Prophet. The bike sharing service provided by Mobike has made transportation very convenient. 'Last kilometer' transportation refers to modes of transport which don't involve buses or trains, but get you to your final destination, such as bike sharing.
Founded in 2015 in Beijing, Mobike initially started its bike-sharing program in Shanghai in 2016. At present, the bike-sharing giant has around 100 million registered users. On average the bike service is used over 25 million times a day, according to the data collected in June.
More importantly, Mobike is also gearing up its overseas expansion as the company aims to meet its ambitious goal of operating in 200 cities globally by the end of the year. At present, the bike sharing services provided by Mobike is available in various countries including Italy, UK and Japan.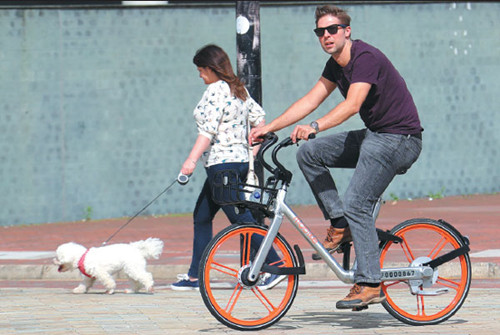 A man rides a bike operated by Mobike in Manchester, the United Kingdom. [Photo provided to China Daily]