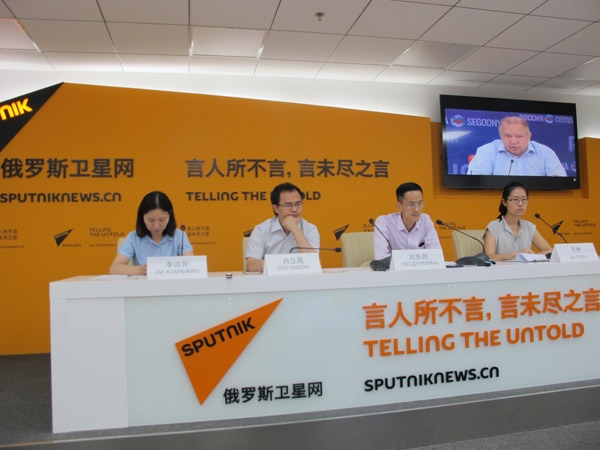 Scholars from Chinese Academy of Social Sciences exchange view with their Russian counterparts in a telephone conversation held between Beijing and Moscow on Aug 25 ahead of the 2016 G20 summit. [Photo by Wang Mengzhen/chinadaily.com.cn]
Scholars from Beijing and Moscow called for emerging economies such as China and Russia to make their voice heard more at the G20 summit in Hangzhou, as they exchanged views in a telephone conversation on Monday.
The telephone conference, initiated by Russian news agency Sputnik, invited economic experts from key think tanks from China and Russia: Chinese Academy of Social Sciences (CASS) and Russian Institute for Strategic Studies (RISS).
"In recent years, trade protectionism among the group 20 members has not declined but worsened, and 40 percent of these barriers have been set by the United States," said Vyacheslav Kholodkov, head of International Economic Organizations Sector at RISS. "Thus China, as the chair of the 2016 summit, should initiate steps to counter the trend in Hangzhou."
"China and Russia, as major BRICS countries, are likely to discuss the further connectivity of China-led Belt and Road Initiative and Russia-led Eurasian Economic Union at the G20 summit," said Kholodkov.
"How to build a mature global financial safety net, especially the currency swap system, in the post-2008 financial crisis era will be one of the most important tasks in this year's G20 summit," said Liu Dongmin, director of International Finance Research Division at CASS.
Liu added that it is of great need for emerging economies such as China and Russia to push forward reforms of the International Monetary Fund and the World Bank by raising the voting shares as well as the establishment of a multilateral international payment settlement system.
This year's G20 summit, scheduled for Sept 4-5 in China's eastern city of Hangzhou, has invited the largest number ever of developing countries, providing a unique opportunity for the developing world.