9-month festival of Chinese art, heritage to be staged in Liverpool, UK, next year
LIVERPOOL - The British city of Liverpool will host a festival of the best of Chinese contemporary art and culture that will last nine months in 2018 to mark the city's 10th anniversary of being named the European Capital of Culture.
A sampling of a year of events was announced by City Hall officials on Thursday, with full details to come in January.
The city says Year of the Dog celebrations in what is Europe's oldest Chinatown will kick-start the program called "China Dream".
The 2018 Chinese New Year celebrations will not just be bigger than ever but will also signal the start of the China Dream festival.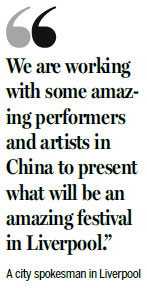 New Year festivities will run the length of Berry Street in Chinatown, while a spectacular visual show will illuminate the city's Chinese Arch - the largest outside the Chinese mainland - and surrounding buildings, accompanied by music from popular Chinese artists.
There will also be a Chinese New Year fireworks display that city officials say "will blow your socks off".
The launch of China Dream in February coincides with the opening of the Terracotta Warriors exhibit at World Museum Liverpool, which is destined to attract visitors from both home and abroad to enjoy the rare experience of seeing the famous ancient artifacts on British soil.
"During China Dream, unique revolutionary artists and photographers will be commissioned to create one-off pieces that showcase the best of Chinese contemporary culture," a city spokeswoman said.
Over the summer, Shanghai, Liverpool's twin city, takes over the famous River Mersey waterfront to showcase itself.
It will feature 10 of the city's best emerging artists, along with a special offering from the Shanghai Film Festival, which will bring the latest in Chinese film to an English-speaking audience.
China Dream concludes in October with a Moon Festival celebration, coinciding with China's Golden Week harvest-time holiday, where some of the biggest names from the country's pop music scene will descend on the Mersey, bringing the latest Chinese sounds to Liverpool music lovers.
A city spokesman said: "We are working with some amazing performers and artists in China to present what will be an amazing festival in Liverpool."
Liverpool and Shanghai became sister cities in 1999, both sharing stunning waterfronts and long-standing trade links.
Liverpool Mayor Joe Anderson touted the "opportunity for us to roll out the red carpet for people to come and visit for the first time, or to rediscover what we believe is the most exciting destination in the UK.
"Some of the projects we will be announcing in the New Year really do raise the bar, and it will be an incredible time for residents and visitors who will undoubtedly travel from across the world to experience how Liverpool puts on a show."
Xinhua