Syrian talks in Geneva to continue to Dec 15: UN envoy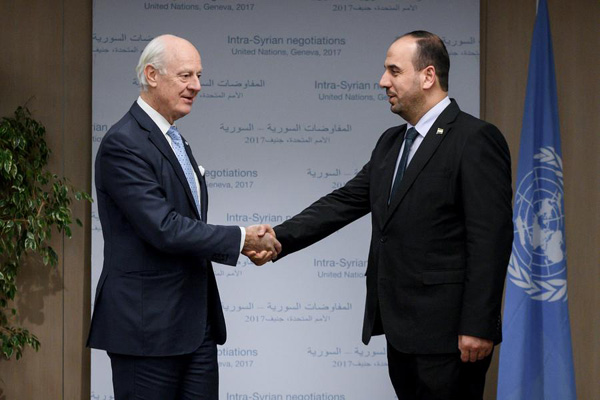 UN Special Envoy for Syria Staffan de Mistura (L) and head of the Syrian Negotiation Commission (SNC) Nasr al-Hariri shake hands prior to the start of a new round of Syria's peace talks at the United Naitons in Geneva, Switzerland Nov 28, 2017. [Photo/Agencies]
GENEVA - The UN Special Envoy for Syria Staffan de Mistura said on Thursday that he is planning to extend the ongoing UN-led Syrian peace talks till Dec 15.
The new round of the talks, started on Tuesday, was originally scheduled to close on Dec 1.
De Mistura described the talks this week as "professional and serious" when he addressed a press briefing on the intra-Syrian talks which began in Geneva with low expectations on their outcome.
De Mistura described the atmosphere as different to previous times "on both sides".
"The biggest obstacle is trust," said de Mistura, noting that this has always been the case in the Syrian negotiations. "We have to have a process of political dialogue; there is not military solution," he said.
The Syrian opposition delegation arrived for the start of the talks on Tuesday, while the government delegation under Syrian Ambassador to the United Nations Bashar al-Jaafari arrived a day later.
"We are still at the beginning if you want to look at in the context of the 15th of December," said de Mistura, adding that the present round is scheduled to last until that date with all parties participating "without preconditions".
He said that he held "very close proximity parallel meetings" on Thursday with the two parties, shuffling between two rooms five meters apart, but there had been no interaction between them.
The UN envoy expected that the Syrian government delegation will return home for discussions at the weekend and return to Geneva on Dec 5 to resume discussions.
He was asked if Russian talks scheduled in Sochi next year were a counter measure to the UN talks.
"Every single member country of the Security Council... has been clearly indicating and repeating that the only process for the political process is the one led by the UN mandated by the Security Council linked to [Resolution] 2254 and based in Geneva," answered de Mistura.
De Mistura also noted that he is unable to give any guarantees regarding the talks as those have to come from the negotiating parties.
"If they do not follow what we are advising them there can be very negative consequences," de Mistura said.