German trains collide near Duesseldorf, several people injured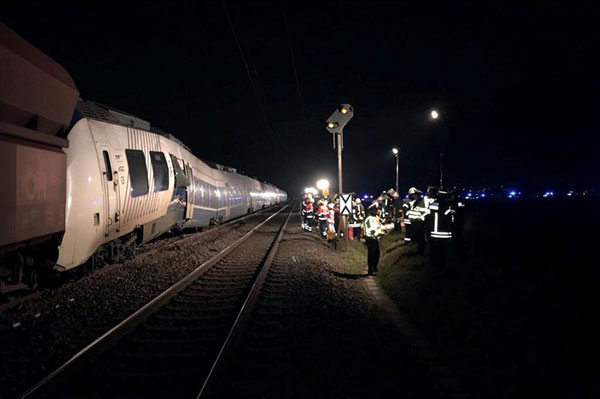 Rescue workers are pictured at the site of train crash in Meerbusch west of Duesseldorf, Germany, Dec 5, 2017 in this picture obtained from social media. [Photo/Agencies]
BERLIN - Several people were injured in a train crash on Tuesday near the German city of Duesseldorf, fire department and police spokesmen said.
Rail operator Deutsche Bahn said a passenger train of the regional provider National Express drove into a freight train from DB Cargo about 1830 GMT in the town of Meerbusch.
The Meerbusch fire department said up to 150 passengers were on the train and that 5 people suffered injuries.
A police spokesman earlier had told German broadcaster ARD that about 50 people had been injured in the train crash.
A German government spokesman said Chancellor Angela Merkel had been briefed on the situation.
Reuters