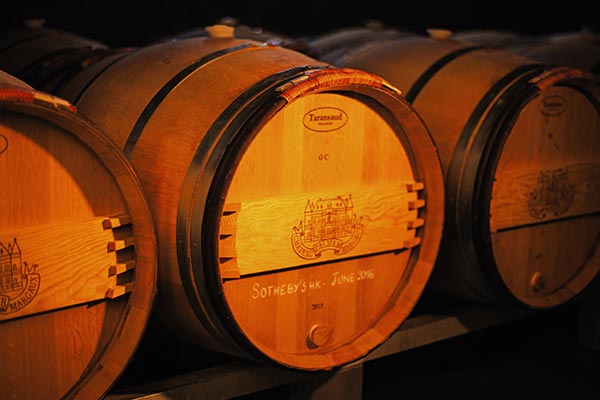 A barrel of the yet-to-be released 2015 vintage is a special feature of the Chateau Palmer auction on June 4. [Photo provided to China Daily]
Wine has leaped into the spotlight at Hong Kong's top auction houses, with both Sotheby's and Christie's announcing plans for significant sales they believe reflect the speedy maturing of the Asian wine market.
The action starts next week, when Sotheby's Hong Kong gallery present the first-wine auction entirely dedicated to Chateau Palmer, more than 220 lots spanning 87 years (1928-2015), estimated at HK$7.7–HK$12.4 million ($980,000–$1.6 million).
Besides demonstrating the aging qualities of some great French wines -- the vintages go back as far as 1928 -- the June 4 sale also features a 225-liter barrel of Chateau Palmer 2015, a vintage that has yet to be released. That means buyers can choose the bottle sizes they want and even personalize them.
Wine fans intrigued by the Chateau Palmer event but who are not ready to jump into the auction can experience the wine in Hong Kong through July 31 in an unrelated event, a special wine-pairing menu at the Ritz-Carlton Hong Kong . The two-Michelin-starred Tin Lung Heen restaurant is matching the 2008 Alter Ego Palmer with baked wagyu beef served in black and white garlic, and the 1995 and 2011 vintages of Chateau Palmer with roasted crispy French duck with honey and preserved tangerine peel.
Meanwhile, Christie's announced on Tuesday that it will team up with Napa Valley Vintners to put rare treasures of the California wine industry on the auction block this fall.
At an announcement party hosted by Hong Kong-based Master of Wine Debra Meiburg, a California native, the "made-for-auction-only" Premiere Napa Valley wine range was previewed ahead of its debut Asian auction on Nov 3.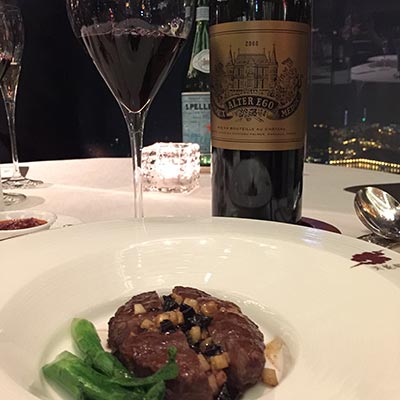 A pairing dinner at Hong Kong's Tin Lung Heen matches 1995, 2008 and 2011 vintages with wagyu beef and roasted French duck. [Photo provided to China Daily]
Christie's head of wine for China, Simon Tam, noted that the auction house has offered wines from Premiere Napa Valley annually for 20 years, but bringing the event to its Asia auction gallery for the first time reflects the strength and maturity of the market here.
"China has a long culture of white spirits, but grape wine is comparatively new," Tam tells China Daily. "Our clients here have been eager to experience the wine lifestyle, and very quick to learn."
Noting that Hong Kong's wine culture took off after 2008 in the wake of attractive new tax policies, he says Christie's wine clients are now as likely to come from the Chinese mainland as from the SAR island.
"More important," he says, "wine has proved itself to be a truly international language. There is no longer a cultural divide between East and West as far as wine is concerned."
While red wines still dominate the Chinese market, Tam says that whites are starting to catch up. "That's especially true in southern China, where cuisines are lighter and often favor sweet dishes and seafood that invite pairing with crisp white vintages."
Auctions of rare bottles have become a significant part of Asia's recent wine story.
"Like in any other developed wine market," he says, "traders will invest in these wines for their resale value later. And private collectors want them because they know these wines may not be around later when they want to drink them."
Related:
Changyu ready to make a splash with wines in Europe