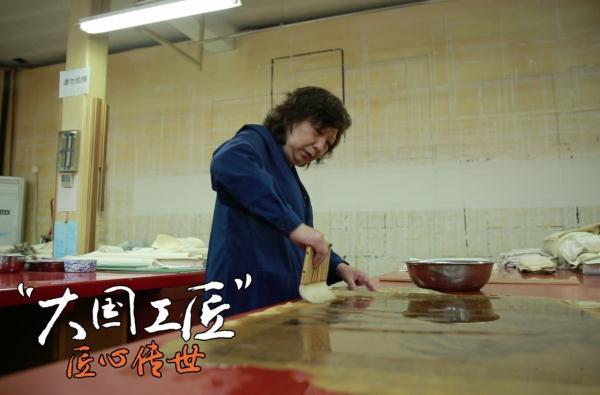 Shan Jiajiu restores a painting from Qing Dynasty. [A still image from China Central Television]
"Those who do the job should be humble and have a presence of mind to sit behind desk, despite how alluring the outside world is," said 59-year-old Shan Jiajiu, an ancient painting and calligraphy restoration specialist at the Palace Museum in Beijing.
Shan has been doing this job for 38 years, with nearly 200 decayed ancient paintings and calligraphies being restored out of her hands. The renovation of a piece is a complicated and long process. From her experience, the longest period can last for one year, the shortest three months.
An ancient painting or calligraphy has four layers of paper or other materials as its structure. One is the layer of painting itself, called Huaxin, the other paper layer sticking to Huaxin is called Tuoxin paper, and another two layers of paper behind Huaxin and Tuoxin paper are backing papers.
"The hardest step is to separate Huaxin from Tuoxin paper," said Shan after she peels off two layers of backing papers. "One mistake will destroy the ancient painting."
The total thickness of Huaxin and Tuoxin papers measures at 0.22 mm. At first, scraps of Tuoxin paper are stripped from Huaxin. Gradually, the scraps that stick hardest to Huaxin cannot be stripped off but have to be rubbed off with fingers.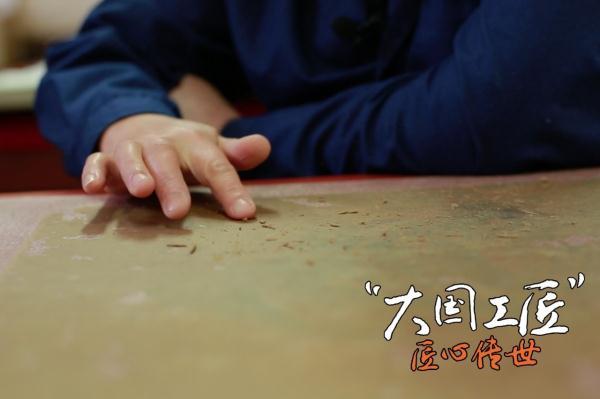 Shan Jiajiu rubs off scraps of Tuoxin paper from Huaxin with fingers. [A still image from China Central Television]
"It needs to be done very carefully, just like treading on thin ice," said Shan with her eyes and even her whole body absorbed in where her finger was moving.
"It all depends on this hand. The feeling and the skills cannot be achieved in one or two days," she said. "It is what I practiced and accumulated in the last 38 years."