China's efforts to rebalance its economic structure are desirable and will benefit the regional economy in the long run, representatives of the International Monetary Fund said on Friday.
"China's transition from manufacturing and investment to services and consumption, though it may point to a slower pace of growth in the short run, is really what we want to see," said Alfred Schipke, IMF's senior resident representative in China, adding that over time the region is likely to benefit as the rebalancing makes China's growth model more sustainable.
China's growth is forecast to moderate to 6.5 percent this year and 6.2 percent in 2017, according to the IMF's latest regional economic outlook for Asia and Pacific released on Tuesday.
As the largest economy in Asia, China's pace of rebalancing imposes different spillovers on neighboring countries in Asia that contribute two-thirds of global economic growth, according to Schipke.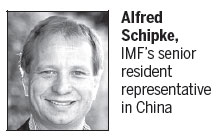 "Those more dependent on investment and manufacturing could lose, and those that rely on China's consumers, such as labor-intensive products and technology industries, can be winners," said Schipke, referring to the fact that consumer expenditure has become a more important growth engine for the world's second-largest economy.
Raphael Lam, deputy resident representative of the IMF in China, said that efforts to cut overcapacity and to develop appropriate fiscal policies have gradually paid off in the rebalancing process.
Meanwhile, there are some key challenges that China needs to tackle to sustain growth.
"China should place more emphasis on tackling credit issues, as China's debt-to-GDP ratio remains high," said Lam.
"Credit has grown at a quickened pace while fundamentals of the businesses are in decline, which has deteriorated since 2015," said Lam.
Official data show that new lending hit a record in the first three months after it topped 4.6 trillion yuan ($707 billion), driving the country's GDP to expand by 6.7 percent year-on-year.
In response to concerns over the sustainability of China's recovery, Lam said that the government should not rely too much on government-led infrastructure projects and instead should make good use of policy instruments to encourage private investment.
Total fixed-asset investment rose 10.7 percent year-on-year in the first quarter, up by 0.5 percentage points compared with the first two months, but that of private investors grew by only 5.7 percent, down 7.9 percentage points from the same period last year.
Chinese policymakers have taken heed of the predicament facing private entrepreneurs and vowed to take targeted measures to facilitate their business operations.
wangyanfei@chinadaily.com.cn
(China Daily 05/07/2016 page4)