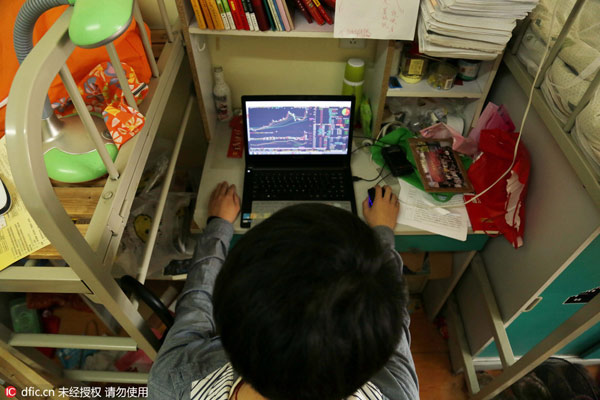 A college student watches stocks on a chart on his laptop. [Photo/IC]
College students born in the 1990s have no lack of experience in investing in the financial market, but the group as a whole is in need of better financial education, according to a new survey.
The Report on Financial Quotient of Chinese Youth was jointly carried out by Tsinghua Media Survey Lab, Ant Financial and Top Think Tank. The survey was conducted in 31 provinces, municipalities and autonomous regions across the country, with 4,980 valid surveys collected.
More than 40 percent of the post-90s college students polled said they have experience in investing in the stock market and 36.7 percent have bought shares from investment funds, the survey shows.
Sixty percent of respondents show an interest in managing their money. Their first choice is investment products and services of banks, and internet finance comes next - 40 percent of those surveyed plan to invest in internet financial products or services in the next year.
Despite the college students' enthusiasm in managing their wealth, a lack of financial knowledge is obvious.
Three in five respondents believe that there are investment products with high yield and low risk, partly due to propaganda by illegal peer-to-peer (P2P) lending platforms, shows the survey.
There is also unreasonable expectation for financial products among the respondents given the lowering benchmark interest rates - nearly one third expect a yield between 10 to 18 percent from financial products they bought, and another one third anticipate a yield between 5 to 10 percent.
Financial quotient (FQ) is an important skill to survive in modern society, after intelligence quotient (IQ) and emotional quotient (EQ), but the development of financial education has not kept up with that of financial products and services in China, said Zhao Shuguang, director of Tsinghua Media Survey Lab, to China National Radio.