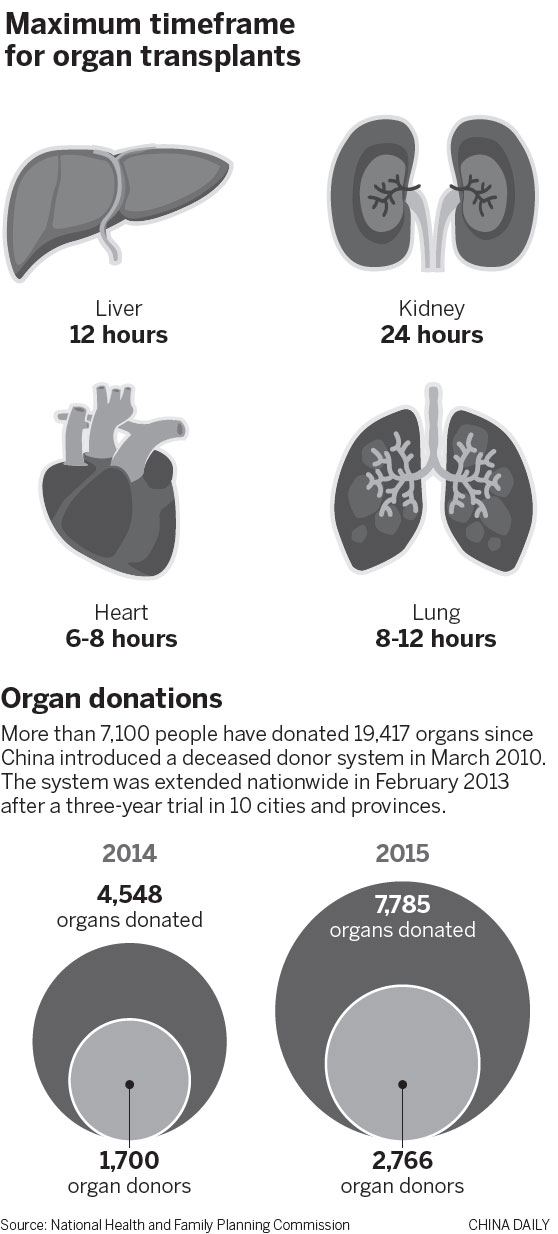 More Chinese people choose to donate organs, but lack of supply still serious
China has established fast channels for human organ transportation to minimize delivery times and help more patients survive, China's top health authority announced on Friday.
The fast channel will be supported by health, transportation, public security as well as aviation and railway authorities and make organ transportation more efficient, said the National Health and Family Planning Commission.
Aircraft carrying organs will be given priority during take off and landing. If the flight is fully booked and staff members of the Organ Procurement Organization responsible for organ transport cannot board the plane, the organ is allowed to be carried to the destination by crew members. OPO staff members can also board trains without tickets during emergency circumstances.
Meanwhile, public security departments are required to make sure the route for vehicles transporting organs is clear and make sure they can arrive at the hospital as soon as possible.
The public is also encouraged to provide private vehicles and aircraft to transport organs.
"The initiative, covering all major forms of transportation, including civil aviation, highway and high-speed railway, will better facilitate particularly long distance transport of donated organs and substantially improve the overall efficiency of organ donation and transplants in the country," said Chen Jingyu, deputy director of Wuxi People's Hospital and a leading lung transplant specialist.
Many organs, such as lungs, have to be transplanted within 12 hours after removal from the deceased donor to avoid damage. Lung transplant surgery takes an average of five hours, and so the window to transport the organ is five to six hours, he said.
In February, the Civil Aviation Administration issued a circular requiring airlines and airports to prioritize medics' transporting organ donations by offering faster security checks.
Chen said that's a good beginning.
"The latest directive helps deal with the highway and high-speed rail as well, and they are clearly informed of how to help," he said.
In 2015 alone, 2,766 people donated 7,785 organs, more than in 2013 and 2014 combined.
Although the number of organs donated in China last year topped Asia and ranked third in the world, China has a serious lack of donated organs. Some patients must wait for years for transplant surgery, and many don't survive long enough to receive a transplant. Previously, executed prisoners were one of the major sources of organs. On Jan 1, 2015, China banned the harvesting of organs from prisoners.
According to Chen, each donor gave an average 2.6 organs in China last year, compared with an average of four internationally. In theory, six organs - a liver, a heart, two kidneys and two lungs - could be harvested from an individual donor in the best scenario.
Contact the writers at cuijia@chinadaily.com.cn