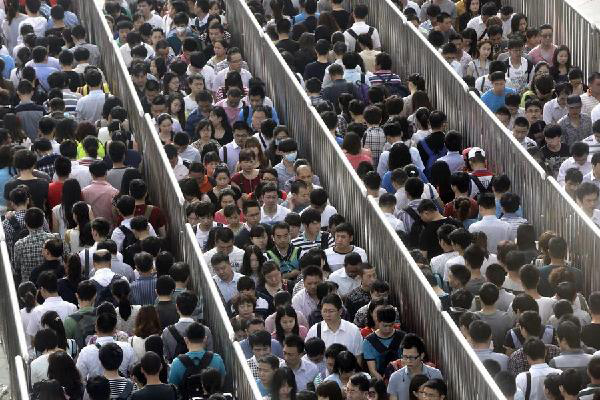 Passengers line up and wait for a security check during morning rush hour at Tiantongyuan North Station in Beijing on May 27, 2014. [Photo/Agencies]
Beijing city government plans to reduce the number of permanent residents at six downtown districts within this year, a senior economic planner said on Thursday, the 21st Century Business Herald newspaper reported.
The city has recently published its economic and social development plan for next five years, and an important goal is to cap its population at 23 million by 2020 and reduce the number at six downtown districts by 15 percent from 2014. This is the first time that the capital has drawn a red line on its population.
The six districts are Xicheng, Dongcheng, Chaoyang, Fengtai, Haidian and Shijingshan. About 12.76 million people lived in these six districts in 2014, which means the figure would be 10.84 million by 2020 according to the plan.
Lu Yan, director of Beijing Municipal Development and Reform Commission, the economic planning body, said the city government will take intensive measures to fulfill the goal, relocating its population to new towns and outlying regions.
Beijing has taken economic and administrative measures to relocate factories, low-end markets, education and medical institutions, as well as administrative organs to remote areas, nearby Hebei province and Tianjin.
Xicheng's population started to reduce in 2014, and Dongcheng saw a fall last year, but the total population still increased.
Lu said that six districts will focus on some areas to complete the relocation plan this year, such as the surrounding areas of Palace Museum in Dongcheng and Beijing Zoo in Xicheng.
Besides the overpopulation, the city also faced other three major "pains" - traffic congestion, high home prices and worse ecological environment, Lu said, the Beijing Morning Post news paper reported.
To solve the traffic problem, a rail transit system of 900 kilometers will cover all districts by 2020, Lu said. Suburban districts of Pinggu, Miyun, Huairou and Mentougou will also be connected with the downtown areas with subways.
People could walk about 750 meters to reach the nearest subway station at downtown areas by 2020, he said. In the suburban areas, parking lots will be built around the subway stations for people to take the rail system.
The latest plan has drawn four red lines for the city's development for the first time: except for a cap on the population of less than 23 million, others include cap on urban construction areas of less than 2,800 square kilometers, yearly water consumption of less than 4.3 billion cubic meters and the yearly energy consumption meets national standards, Lu said.
Lu also added Thursday that the city will also increase the capacity of kindergartens to admit 150,000 more children in the future to fulfill the rising pre-school education demands after the country launched the two-child policy.