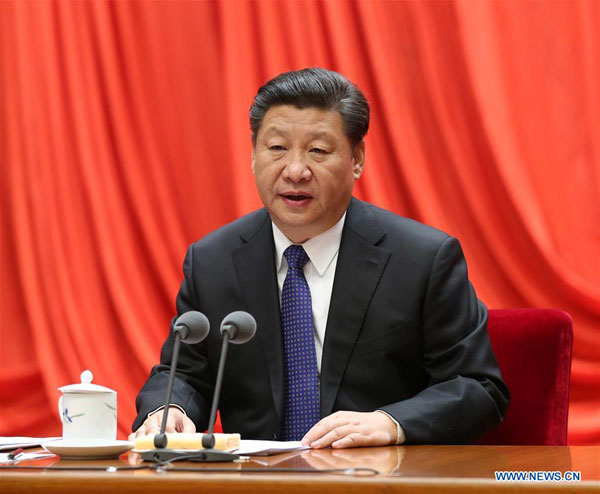 Chinese President Xi Jinping, also general secretary of the Communist Party of China (CPC) Central Committee and chairman of the Central Military Commission, addresses the 6th plenary session of the 18th CPC Central Commission for Discipline Inspection (CCDI) in Beijing, Jan 12, 2016. [Photo/Xinhua]
There will be no letup in the nation's campaign to fight against corruption, the president says
President Xi Jinping has issued a stern warning of "cabals and cliques" in the Communist Party of China and reiterated the nation's determination to press ahead with the fight against corruption.
"There are careerists and conspirators existing in our Party and undermining the Party's governance,"Xi said in a speech, the full text of which was published in People's Daily on Tuesday.
"We should not bury our heads in the sand and spare these members, but must make a resolute response to eliminate the problem and deter further violations,"he said.
Xi, also general secretary of the CPC Central Committee, gave the speech in January at a plenary session of the CPC Central Commission for Discipline Inspection, which mapped out anti-graft work for this year.
He said "some officials have been forming cabals and cliques to covertly defy the CPC Central Committee's decisions and policies", and they "risk compromising the political security of the Party and the country".
"We must make it clear that our Party's fight against corruption is not a snobbish affair that discriminates between different people, and it is not a House of Cards power struggle,"he added, in a reference to the US television series.
Since the anti-graft drive was launched three years ago, senior corrupt officials have been found to have forged close relationships with groups of officials at local government level and with business tycoons in different factions with shared interests, such as the "oil clique", "secretary clique" or "Shanxi clique".
Zhou Yongkang, the former security chief; Xu Caihou, a former vice-chairman of the Central Military Commission; and Ling Jihua, a senior Party official and national political adviser, headed such fractions.
Zhou was said to have formed several networks within the sectors he was in charge of, including law enforcement organs and State-owned enterprises such as China National Petroleum Corp, where a number of corrupt officials were investigated for involvement in Zhou's "oil clique".
Wang Yukai, a professor of public administration at the Chinese Academy of Governance, said such factions are likely to result in severe corruption in an entire area or industry, and the Party must adopt an "iron-fist policy" to nip the cliques in the bud.
Xi also denied in his speech that the anti-graft drive is going to wind down.
He reiterated the Party's determination to root out corruption, and stressed that the efforts should adhere to the goal of firmly curbing any increased corrupt behavior in the Party.