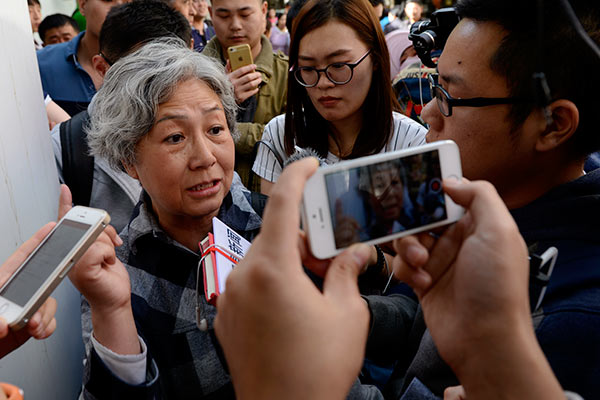 A woman identified only as Lu tells reporters at the Second Hospital of the Beijing Armed Police Corps in Beijing on Tuesday she is seeking are fund for therapy received by her husband, who had liver cancer and died in March last year. [Wei Xiaohao/China Daily]
Families of patients who are receiving or have received immunotherapy cancer treatment at a military hospital in Beijing are demanding an explanation and refunds, after media exposed details of a case involving the hospital and a young patient who died recently.
Three top government and military health authorities have jointly launched an investigation into the Second Hospital of the Beijing Armed Police Corps, the National Health and Family Planning Commissions aid on Tuesday.
It said it would conduct the probe jointly with the health bureaus of the Central Military Commission and the national Armed Police Force.
The commission said on Monday that it and other ministries have set up a team to probe search engine giant Baidu to see whether misleading information regarding cancer treatment had led college student Wei Zexi,21, to choose the hospital for treatment.
Wei, a computer science major at Xidian University in Xi'an, Shaanxi province, died on April 12.He was diagnosed in 2014 with synovial sarcoma, a rare, terminal cancer of the soft tissue, and underwent surgeries and chemotherapy in other hospitals before turning to immunotherapy at the Second Hospital of the Beijing Armed Police Corps last year. He turned to the hospital after searching on Baidu.
Two months before his death, Wei said in an online post that a doctor at the hospital told his father that the immunotherapy was developed in the United States and was very effective. However, tumors entered his lungs several months after he received the treatment at a cost of more than 200,000 yuan ($30,900), he wrote.
The hospital declined to comment on Tuesday.
The hospital and Baidu became the target of public criticism in the past few days after media reports raised questions about Wei's treatment and the search engine's paid listing practice. The reports also brought to light the hospital's contracting of treatment to a private company.
The National Health and Family Planning Commission prohibits public hospitals from contracting their departments to others.
However, military hospitals such as the Second Hospital of the Beijing Armed Police Corps are administered by military authorities.
Although military hospitals are likewise banned from contracting departments to other companies, according to regulations issued by military authorities, in practice many military hospitals contract some of their departments to others for profit, media reports said.