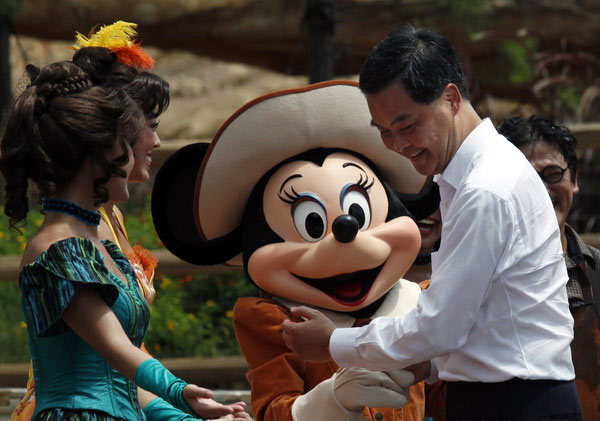 Hong Kong's Chief Executive Leung Chun-ying (R) is greeted by a Minnie Mouse mascot (C) as he attends the opening ceremony of Grizzly Gulch, the largest themed area in Hong Kong Disneyland's expansion. [Photo/Agencies]
If Hong Kong wants to attract more mainland tourists, it should focus on getting its citizens to behave well toward them and rehabilitate the city's tourist-friendly image, instead of worrying about easing travel restrictions on mainlanders, tourism experts said.
The suggestion was made after Chief Executive Leung Chun-ying made it clear on Tuesday that the special administrative region's government had no plan to restore the multiple-entry individual visit scheme for people from the nearby city of Shenzhen, Guangdong province.
Evidence of the falling number of mainland tourists visiting Hong Kong came during the three-day "mini Golden Week" holiday from April 30 and May 2 when there was a 40 percent year-on-year drop in the number of mainland tour groups, according to the Hong Kong Inbound Travel Association.
Lam Chi-ting, general secretary of Hong Kong Tourism Industry Employees General Union, said he agreed that the time is not right to reinstate the multiple-entry permits for residents from Shenzhen, or to loosen rules so that residents of other mainland cities can visit Hong Kong more easily.
"The city still needs time to study its capacity before welcoming more mainlanders," Lam said.
"Not to mention, Hong Kong people also need time to learn how to behave in a civil and friendly way toward mainland visitors."
He made the comments after recent news stories reported isolated incidents in which mainland visitors had been criticized and made to feel uncomfortable in Hong Kong.
Leung said before an Executive Council meeting on Tuesday that the SAR government was aware of the fact that too many mainland tourists could put undue pressure on the city and disturb the daily lives of local people.
The city has enjoyed several bumper years for tourism, with mainland visitors delivering a shopping and traveling bonanza to the retail sector, said Song Ding, a senior analyst from the Tourism and Real Estate Industry Research Center of the China Development Institute, a think tank based in Shenzhen.
But in the wake of fewer mainland tourists visiting the city and a cooling economy, Hong Kong has been attempting to lure tourists from countries including Japan, South Korea and the United States. However, Lam said there are limits to how much difference tourists from those markets can make.
The mainland contributes between 3 and 4 million arrivals to Hong Kong each month, compared with 150,000 to 160,000 monthly arrivals from other major markets.