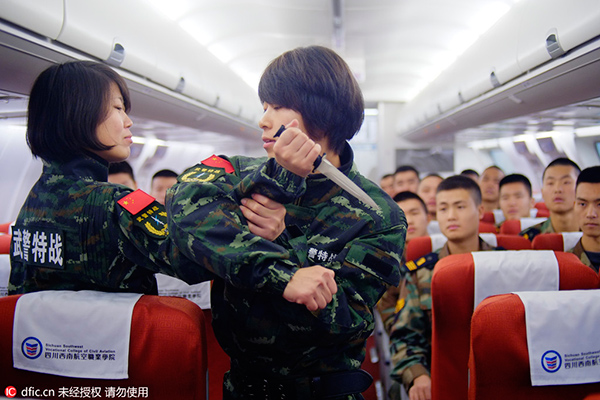 Two retired SWAT officers teach civil aviation employees moves to fight potential terrorists in this 2015 file photo in Sichuan.[Photo/IC]
The civil aviation authority is adding measures to a regulation to prevent terrorist attacks on passenger planes and airports, including for the first time requiring that all industry employees receive security clearance.
According to the draft of the revised Regulation on Safety and Security of Civil Aviation, all of the country's civil aviation personnel must undergo background security investigations.
Additionally, civil aviation and public security administrations, airports and airlines are asked to enhance their anti-terrorism intelligence capabilities.
Safety and security plans drafted by foreign airlines that operate in China also must conform with China's laws and regulations, and the plans need to be examined and approved by local civil aviation administrations.
Besides anti-terrorism measures, the draft also bans passengers from attacking or occupying check-in counters, security check lanes and boarding gates in airports, and it stipulates penalties for various offenses. These parts of the plan are designed to deal with an increasing number of angry passengers who are frustrated by flight delays.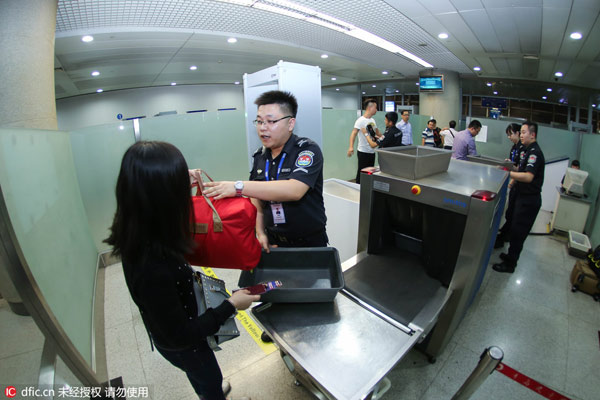 Security staff check passengers at an airport in Qingdao, East China's Shandong province. [Photo/IC]
The draft is posted on the website of the State Council's Legislative Affairs Office to solicit public opinion before May 20. The current regulation was adopted 20 years ago.
Industry observers said the new requirement that all aviation industry personnel receive security clearance is an important measure.
Li Wei, an expert on anti-terrorism studies at the China Institutes of Contemporary International Relations, said that eliminating human factors is the priority of all counterterrorism measures.
The investigation of the explosions at Brussels International Airport in March found that 50 employees were influenced by extremism, and in previous cases, airport staff members were found to have helped terrorists pass security checks, he said.
"If people (working in the industry) are not reliable, all other preventive measures will be useless," Li said.
Liu Weimin, a law professor with the Civil Aviation Management Institute, agreed with the change. "Civilian pilots in China used to be under paramilitary management, but as times change, this has been relaxed ... and incidents have happened," he said, without elaborating.
Tighter management and ethics training could help address the problem, he added.