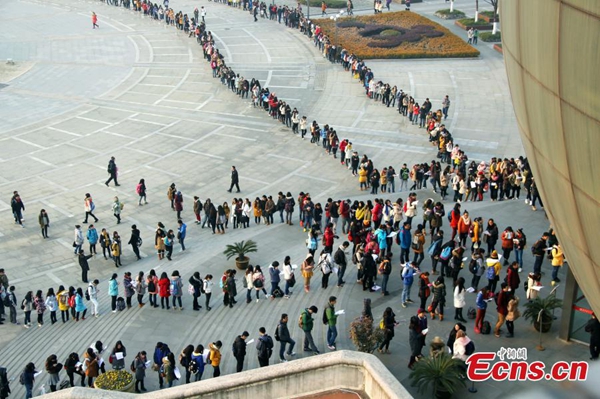 Students queue outside a school library, waiting to enter the reading room to prepare for the upcoming final exams at the Nanjing University of Finance and Economics in Nanjing, Jiangsu province on Jan 8, 2015. [Photo/China News Service]
Students in Nanjing University will no longer have to worry about their seats in the library being taken up by someone else when they temporarily leave their seats.
"WeChat library", a mobile-based online platform for managing the use of library seats, started a trial operation at Nanjing University on Thursday to keep good order in some libraries, triggering a heated debate on campus.
The platform runs on the university's official account "Going to the library" on WeChat, a popular instant-messaging and social-networking platform. Students can book seats, register their presence, report when they leave and reserve seats on the platform.
According to the rules, those who book the seat have the priority to use the seat, but they also have to observe a time limit. They must take the seat and scan the QR code on the seat within 20 minutes of the library opening. If not, they will get a violation record.
They also have to be back at the seat and report on the platform in 20 minutes if leaving for the toilet, 30 minutes for book searching, and 90 minutes for lunch or supper.
Any violation will be recorded, and when three violations are registered, the system will automatically put the violator onto a blacklist.
Students reacted differently to the new rules.
A university student, surnamed Ye, argued that the time limit was too strict as everyone has different habits. "I think there must be someone who will break the time limit. Not everyone can be so self-disciplined," he said.
Another student, surnamed Shen, believes the new tool manages order well as it effectively prevents seats from being occupied when students leave temporarily.
Many students support the platform, as snatching seats has long been a issue. It is a positive change, they said, and at least it is better to use the platform and obey rules than not.