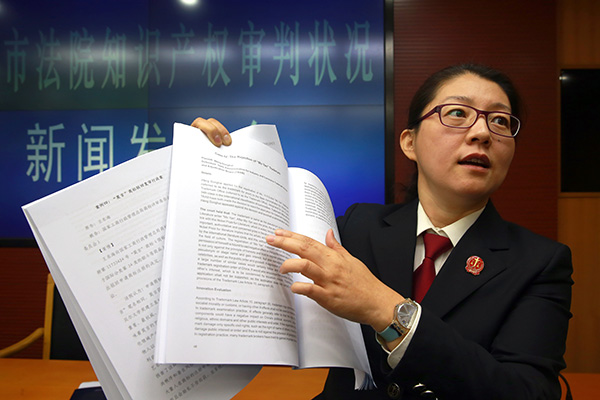 Pan Wei, IP tribunal chief judge assistant of the Beijing High People's Court, displays an example case on Wednesday in Beijing. [Photo by Zou Hong / chinadaily.com.cn]
Nearly one in six lawsuits received by the Shanghai Intellectual Property Court in 2015 involved an overseas party, with most claiming to be victims of trademark or patent infringement.
The accusers include luxury brands such as Burberry, Louis Vuitton and Gucci, and Fortune 500 companies such as General Electric, Hewlett-Packard and Microsoft, the court said in a report on Thursday.
The parties come from 15 countries and regions, including the United States, Germany, France, Italy, Japan, Hong Kong and Taiwan.
The court, established in December 2014 to strengthen the handling of intellectual property disputes, received more than 1,640 cases last year, an increase of nearly 127 percent from the previous year.
"IP cases have been surging at more than 20 percent year-on-year in recent years," said Li Shulan, vice-president of the court.
In 2012, a man surnamed Lu sold more than 1.92 million yuan ($296,000) worth of fake UGG boots to another man, surnamed Chen, who then sold them overseas through online shopping platforms. Chen earned more than 2.37 million yuan from the sales.
Chen was sentenced to four years in prison on charges of selling counterfeit trademark goods and Lu received a sentence of 2 1/2 years on the same charges.
In Green Milano Outlets Plaza in Shanghai's Yangpu district, a store selling Gucci bags that used "Gucci" in its store name and interior furnishings was sentenced for unfair competition and was hit with a penalty of 220,000 yuan.
"When we talk about trademarks, it refers not only to the product but also the service. Although they sold genuine Gucci bags, they misled customers into believing they were an authorized exclusive shop for the brand, which might give them an extra competitive edge," said Chen Huizhen, a presiding judge at the court.
"The court will impose heavier compensation according to the law on violations of intellectual property as a stronger deterrent, and will increase the intensity of punishment for repeat violators and those who ignore court verdicts," Li said.