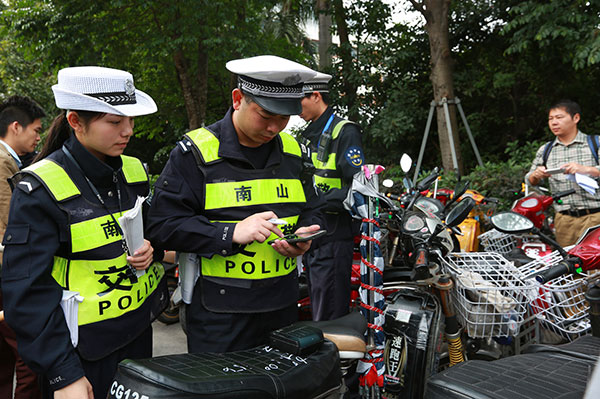 Traffic police officers in Shenzhen, Guangdong province, seize unlicensed electric bikes and freight tricycles in March. [XUAN HUI/CHINA DAILY]
National post and delivery authority has recently released a draft of technical requirements, a national compulsory standard, for electric tricycles used by delivery companies for public review, shortly after controversial bans on such vehicles in some cities caused heated discussion.
The draft aims to regulate the express delivery transportation, according to State Post Bureau.
China's booming e-commerce has led to a surge in the express delivery industry. In 2015, the income of express delivery reached 276 billion yuan ($42.7 billion), a 35 percent rise, and the business volume reached 20.6 billion pieces, a 48 percent increase, from the previous year. About 110 million deliveries were undertaken daily.
As most of the couriers use electric freight tricycles to deliver packages, the number of e-tricycles experienced a massive growth which posed a threat to road safety.
To cope with the issue, the draft lays out the standard for size of the delivery electric tricycles and the limitation on their speed and carrying capacity.
The draft wants delivery electric tricycles to be no more than 1,000 mm in width, 3,000 mm in length and 1,400 mm in height. The maximum load should be 180 kilograms.
It also requires the maximum speed of delivery electric tricycles to be 15 km per hour and the starting speed to be 15 km in four second.
On March 21, Shenzhen in South China's Guangdong province reportedly carried out a "most-severe-ever" ban on electric bikes and tricycles. According to local traffic police, the campaign resulted in the seizure of 17,975 electric bikes by March 31, and 874 people were detained on charges of operating them illegally.
In the latest development, the Beijing municipal government decided to ban electronic motorcycles and tricycles on some of the city's roads, including Chang'an Avenue.
Although one of the most-discussed issues was whether it would allow e-tricycles to carry number plates and run on roads as cars, the draft does not give detailed regulation on the issue but only offers guidance.