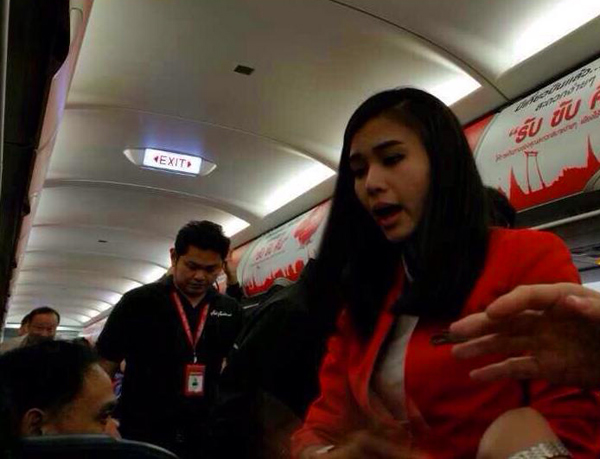 A Thai flight attendant seen in this photo during a scuffle, Dec 12, 2014. [Photo provided on Weibo]
Experts have applauded the introduction of a blacklist for unruly air passengers, but caution has been urged in specifying targeted offenders.
Three people have been fined and placed on a no-fly list since the China Air Transport Association introduced the national system in February.
The identities of the offenders have not been revealed. However, the authority said on Friday that the bans were handed out for reckless behavior on board a flight or at an airport - namely, refusing to switch off a tablet PC while landing, hitting a checkpoint security officer with a milk can, and attacking airline personnel over a flight delay.
The punishment means the trio cannot book flights on five major airlines, including Air China, China Southern and China Eastern, which together operate about 80 percent of routes in and out of China, for one to two years, depending on the severity of their offense.
The Civil Aviation Administration of China last year laid out 11 kinds of behavior strictly prohibited on flights and at terminals, including creating disturbances at check-in counters, damaging airport security facilities, and intimidating or assaulting crew members.
Li Xiaojin, a researcher at the Civil Aviation University of China, said a blacklist system is necessary, as conflicts over delays and disputes among passengers over trivial matters increasingly pose safety risks.
"As China's civil aviation market remains immature, we need more safety education, as well as measures like this to encourage passengers to behave and guarantee safety," he said.
A series of air rage incidents in recent years back up such concerns.
In December 2014, a Chinese woman poured boiling water over a female flight attendant and punched the cabin windows on an AirAsia flight from Bangkok to Nanjing, Jiangsu province, due to a dispute over seating arrangements.
On Jan 10 last year, police removed 25 passengers from a plane in Kunming, Yunnan province, after they quarreled with flight crew and opened emergency exits after growing angry over delays caused by bad weather.
However, Qiu Baochang, a legal consultant for the China Consumer Association, said specifications of the blacklist system should be detailed to avoid infringements of consumer rights.
"The system is in line with international convention, but specific conditions under which a passenger can be warned or blacklisted, and the procedure to inform and educate targeted passengers in advance should be further discussed," he said.