City rule designed for safety and smooth traffic; violators will pay penalties starting on Monday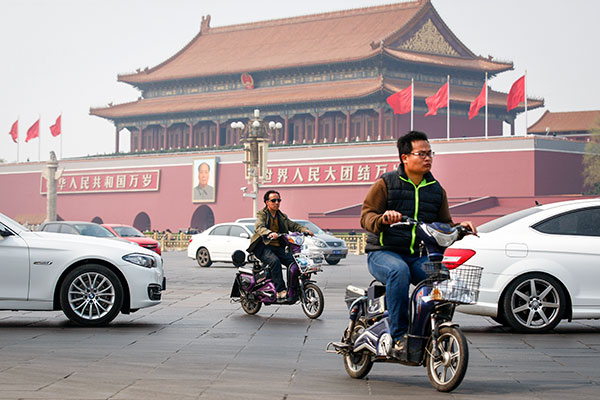 People ride electric bikes on Chang'an Avenue in Beijing on Tuesday. The avenue is one of 10 roads where the bicycles will be banned starting on Monday. Kuang Linhua / China Daily
Riders of two-wheeled electric bicycles in Beijing risk having to fork out 20 yuan ($3) if they ride on one of the 10 streets prohibited by a new traffic rule, which takes effect on Monday.
Beijing's Traffic Management Bureau, the capital's traffic authority, issued a regulation recently banning certain classes of "nonmotorized" vehicles from 10 specific streets, including the city's main thoroughfare, Chang'an Avenue, and others around Tian'anmen Square in the heart of Beijing.
The rule is intended to ensure safety and smooth traffic flow, according to an official at the bureau who asked not to be named. The 10-street ban does not apply to human-powered two-wheeled bicycles.
Electric bicycles with a design speed of less than 20 kilometers perhour and a maximum load capacity of 40 kilograms, are a major type of nonmotorized vehicle in China that has gained increasing popularity among commuters and couriers in recent years.
However, many electric bikes can match the speed of motorcycles or even buses in the city and can pose dangers to passengers or pedestrians.
On March 24, three people died and one was injured in two separate crashes involving electric bicycles in Shenzhen, Guangdong province. One of the electric bicycles was substandard.
Traffic accidents caused by electric bicycles have become a major concern of traffic regulators.
Last year, electric two-wheelers were involved in 31,404 accidents in Beijing, with 113 fatalities and 21,423 injuries. The number of injured accounted for 36.7 percent of all road accident injuries.
So far this year, police have received more than 6,000 complaints about electric two wheelers, the bureau said.
"Regulating the design and quality of nonmotorized vehicles, as well as making rules for riding these vehicles - including electric bicycles and tricycles - should be rolled out as soon as possible," said Wei Jie, a lawyer specializing in traffic compensation cases at Jieqiang Law Firm in Beijing.
"Currently, riders of these vehicles often exceed the speed limit and there is a high risk of a severe traffic accident. Due to a lack of compulsory insurance on these vehicles, victims can get hardly any compensation."
Restricted roads
Except for Puhuangyu Road (near the Puhuangyu subway station on Line 5), all the prohibited roads are along Chang'an Avenue, which runs east and west past Tian'anmen Square:
Chang'an Avenue (Jianguomen to Fuxingmen)
Square East Road
SquareWest Road
Fuyou Road
Zhengyi Road
Fuxingmen Outer Avenue (Fuxingmen Bridge toMuxidi Bridge)
Jianguomen Outer Avenue (Guomao Bridge to Jianguomen Bridge)
Fuxing Road (Muxidi Bridge to Xinxing Bridge)
Shijingshan Road (Yuquan Road to north of Lugu East Street)
Puhuangyu Road (Yuting Bridge to Liujiayao Bridge)