Two new breeding and training centers aim to keep up with massive demand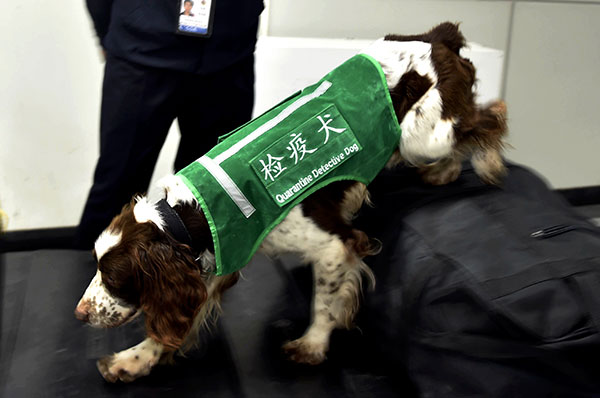 A sniffer dog checks luggage at Changle International Airport in Fuzhou, Fujian province, in March. SONG WEIWEI/XINHUA
More inspection dogs are expected to be deployed at entry-exit ports across China after two national centers for breeding and training are built within the next five years, according to China's top inspection and quarantine authority.
Faced with increasing pressure to ensure biosafety, entry-exit inspection and quarantine authorities will also increase their capacity to keep out hazardous elements such as diseases, viruses and invasive species. This includes improving the warning system and replacing X-ray machines used for handling mail and parcels with more precise CT scanners, Zhao Zenglian, deputy head of the Department of Supervision on Animal and Plant Quarantine under the General Administration of Quality Supervision, Inspection and Quarantine, said on Tuesday.
Nearly 300 dogs are deployed at ports in China, but this is far from enough, Zhao said.
"Considering that there are around 280 major ports in China, 1,000 inspection and quarantine dogs are needed," he said. "But we lack regulated breeding and training centers."
Of the two national centers, he said, one is being built in Beijing, which is likely to be completed within two years, and the other center is very likely to be built in Guangdong province.
The first inspection dog was put into service in 2001, Zhao said. "The use of such dogs can help improve the rate of successful interception (of harmful materials) by 30 percent," he said, noting that compared with traditional detection equipment, dogs have some advantages.
"Unlike equipment which is cold and tends to keep passengers away, many passengers try to approach these dogs when they sniff around and do their job because they are cute," he said.
Three breeds-springer spaniels, labradors and beagles-are favored for inspections in China.
Last year, inspection and quarantine authorities across China intercepted 1.04 million batches of harmful species, an increase of nearly 30 percent over 2014, according to the administration.
The number of harmful species intercepted has been increasing by an average 26.8 percent annually over the past five years, the administration said.