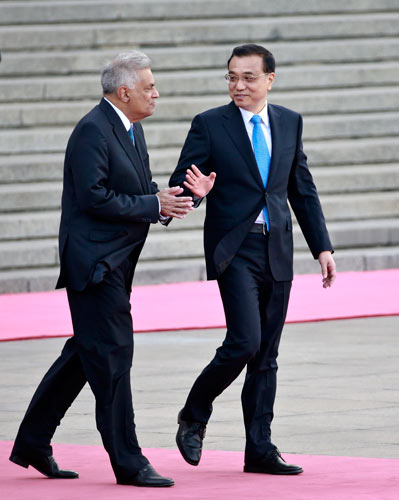 Premier Li Keqiang welcomes visiting Sri Lankan Prime Minister Ranil Wickremesinghe before holding talks at the Great Hall of the People on Thursday. Feng Yongbin / China Daily
China will work together with Sri Lanka to push forward resumption of the delayed construction of the Port City project in Colombo, Premier Li Keqiang said while meeting with Sri Lankan Prime Minister Ranil Wickremesinghe in Beijing on Thursday.
It is Wickremesinghe's first visit to China since he took office last year. A welcoming ceremony was held by Li at the Great Hall of the People.
Also on Thursday, Li met with Swiss President Johann Schneider-Ammann, vowing to strengthen bilateral cooperation with Switzerland.
Li said during his meeting with Wickremesinghe that China is willing to enhance high-level exchanges and trust and deepen coordination in regional and international affairs with Sri Lanka. China will also push forward the negotiation of a free trade agreement with Sri Lanka, aiming for an outcome this year.
He also said he hopes that China and Sri Lanka will speed up negotiation on the second phase of the Hambantota Port project. The port projects will help Sri Lanka become an important transfer hub for international logistics. China is also willing to work with Sri Lanka on infrastructure construction as well as production capacity.
The $1.4 billion project, for which an agreement was signed by the Sri Lanka government and China Communication Construction Co in 2013, will cover 233 hectares adjoining the Port of Colombo. The project was suspended by Sri Lanka early last year after the country's new government required a review of bilateral projects.
Premier Li also said China will encourage Chinese enterprises to invest in construction of the port project.
Wickremesinghe told Li that Sri Lanka hopes to learn from China's development experience, as Sri Lanka is facing many new challenges in social and economic development after decades of civil war.
He said Sri Lanka is willing to link its development strategies with the Belt and Road Initiative to push forward his country's industrialization process. The country will also strive to reach a free trade agreement with China this year while looking forward to deepening cooperation with China on seaports, airports and industrial parks.
The two leaders witnessed the signing of seven documents on cooperation between the two countries on the economy, technology, transportation, finance and medical care.