A group of kickboxing enthusiasts is bringing a new form of entertainment to the capital of Sichuan province. Li Yang reports from Chengdu.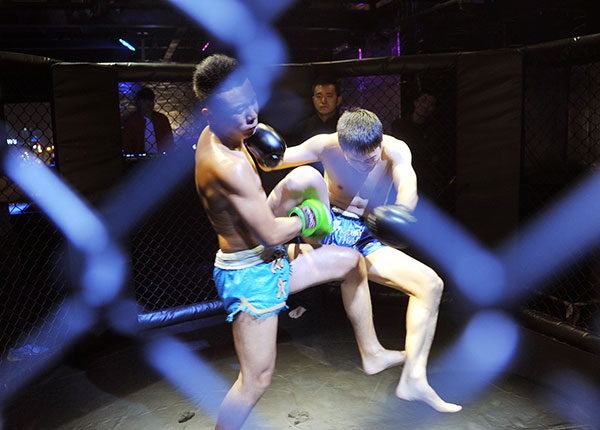 Kickboxers compete in a bout at the Monster fight club in Chengdu, Sichuan province, on Dec 11. LEI YUANDONG/CHINA DAILY
At more than 1.8 meters tall and weighing 70 kilograms, 20-something Yang Yiguo is one of the best-known professional kickboxers at the Monster fight club in Chengdu.
However, his current well-honed physique is a far cry from the days when as a 16-year-old he weighed about 100 kg, and was a middling basketball player at a sports school in the southwestern province of Sichuan.
After being beaten up by a couple of much bigger players during a basketball game, Yang decided to beef up his physique by taking up martial arts and sparring in the ring. He quickly fell in love with Thai kickboxing.
In Yang's opinion, two kinds of people attend the club's trainings sessions-those looking to lose weight and those who want to fight. "As long as you can keep training for a year, whatever the reason you started, you can enjoy a limitless feeling of honor and reward after winning a bout."
Yang clearly remembers the first time he won a fight at a Thai boxing hall in Chengdu in 2010. In the past six years, he has fought 30 professional bouts, losing four and winning the others.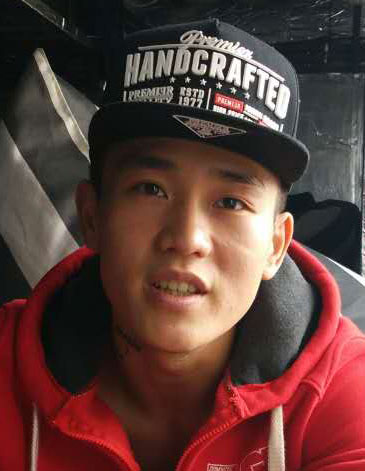 Yang Yiguo, kickboxing coach at the club
A painful conversion
He particularly remembers the time a boxer from Thailand broke two of his ribs, but the incident didn't dampen his enthusiasm. "My parents supported my change (of sport), even though it was painful for me, after they discovered that I enjoyed boxing more than basketball," he said.
The Monster Club was founded by two of Yang's friends in a former bar in an upscale neighborhood of the city, close to the United States Consulate. In November, Yang joined them as a Thai kickboxing coach and participant, and helped to transform the moribund bar into Sichuan's only fight club.
Yang is well-connected with the hundreds of people who make up Chengdu's fight circle. Late last year, he introduced a number of famous professional and veteran boxers in the first few bouts.
With the exception of an account on WeChat, a popular instant-messaging service, the club has no means of publicity, but an increasing number of people are learning about it via word of mouth.
Yang and Ma Huoche, a 28-year-old hip-hop DJ who organizes events for the club, have devised a three-tiered competition: knockout bouts, challenge bouts and entertainment matches.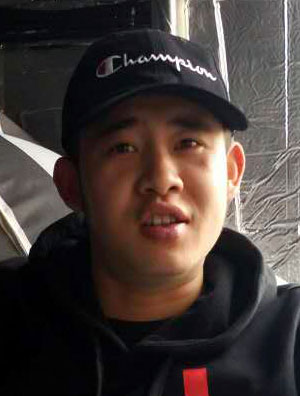 Ma Huoche, hip-hop DJ who organizes events for the club
The fighters register free of charge through the WeChat account, and are assigned to different levels, according to weight and experience. Yang arranges an exercise session with every fighter a week before the bout to assess their skill level face-to-face. Audience members, including women, can challenge the winner of each fight.
The participants and their audience come from various walks of life-including office worker, teacher, doctor, fitness instructor, tattooist, police officer, sailor, waiter, singer, lawyer, college student, retired soldier and even a helicopter pilot.
Yang said he doesn't expect office workers to be tougher than police officers or retired soldiers in the ring: "I think the more stressful their daily lives are, the better they perform in a bout."
The fighters wear little in the way of protective equipment, apart from gum shields, protective oil and boxing gloves. They are allowed to strike their opponents with their fists, elbows, knees, legs and feet, and the bout is only stopped if a participant yields or if the referee steps in to call a halt to the proceedings.
That rarely happens, though. Cut eyebrows and bloody noses are the most-common wounds, and none of the fighters has ever sustained serious injuries.
Fight night lasts from 10 pm to midnight every Friday and Saturday, with each bout consisting of two to three rounds. The events draw audiences of about 50 people, who either gather ringside on the first floor or view the action from the second floor. Audience members pay 100 to 200 yuan ($15-$30), depending on their place in the hall and the time they booked the tickets.
Yang and Ma buy insurance for every fighter, and every winner is awarded a prize of 500 yuan. Overheads are covered by ticket sales and the revenue generated by selling drinks at the bar.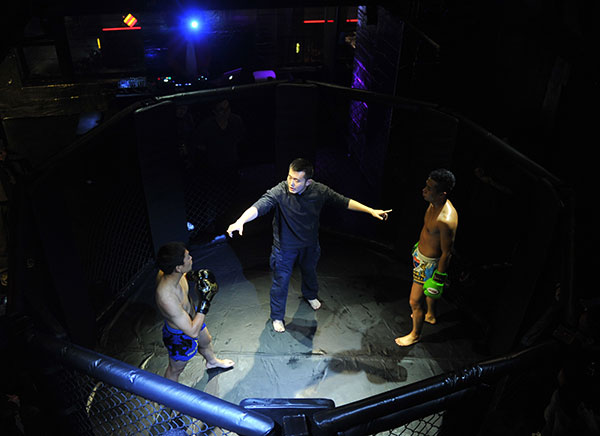 A referee talks to participants during a bout at the club. LEI YUANDONG/CHINA DAILY
Professional training
Yang began offering professional training in Thai kickboxing in late February after he returned to China from a 20-day training camp called "Tiger in Thailand". Given the large number of people who have contacted Yang's WeChat account to apply for one-on-one sessions, training offers a far larger market than organizing fights.
Xu Ying, a helicopter pilot for a tourism agency in Chengdu, became Yang's first pupil. Having studied painting in college, the 25-year-old from Mianyang, an industry city 200 km north of Chengdu, doesn't fit the stereotypical image of a fighter.
She pays 300 yuan for each 60-minute, one-on-one session. During the first session, Yang started by teaching Xu basic combat skills, but he soon discovered that she had a very good foundation in the sport and remarkable physical strength, given that she stands at about 1.6 meters.
"I just like fighting. I have a busy schedule. After seeing the news about the fight club, I made up my mind to set aside time to learn. I have a dream that one day I will be able to fight a bout. Although it would only be against an amateur, I'd really look forward to it," she said.
She added that fighting is a good way of relieving the pressures and frustrations that accumulate in daily life, but if a person wants to become a serious fighter, they will have to build sufficient physical strength through exercise. "Some of my female friends are interested in fighting. No matter what people do for a living, they all look the same in the ring. That's the power of kickboxing."
Wang Haoran, a 16-year-old tattooist from Chengdu, is Yang's most impressive pupil. "I discovered him during an amateur bout at the club. His physique is ideal for kickboxing, and, most important, I see myself in him. I mean the inborn, persevering martial spirit that has become increasingly rare among modern people," Yang said.
Yang doesn't charge Wang for the training sessions. "If I had come across a professional trainer at 16, I would have been much better. I just want to make him into a real fighter," he said.
According to Ma, the DJ, the club's founders aren't interested in making a profit from their activities. "Yang was looking for a place where his friends could exercise, and it was really by accident that we got the opportunity and turned the bar into a fight club. It is fun-being cool is more important than making money," he said.
Ma said the organizers want to create a new form of nightlife in Chengdu. "Drinking and sex are really old fashioned," he said. "A lot of expats live around here, and many of them come to watch the bouts. Some have even taken part. We just provide a stage for people to vent their frustrations and take off their daytime masks to find their real selves and cultivate their martial spirit. That is to never, ever give up."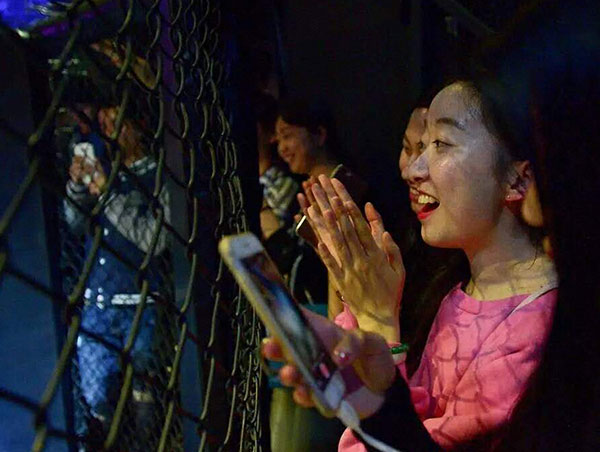 The weekend contests hosted by the club attract audiences and fighters from various walks of life in Chengdu. CHINA DAILY
Misleading reports
"Will your report be positive?" he asked cautiously at the beginning of our interview. "Please make sure you don't mislead your readers and portray us as organizers of underground boxing matches, drug addicts and gamblers."
His mistrust is well-founded. In February, a local newspaper published a report about the club, which, in the opinions of Ma and Yang, intentionally misrepresented the fight club and made it look like a shady, underground business. Following the report, the police called several times to check whether the club was breaking any laws or other local rules.
"To their disappointment, we were fine in every way," Ma said. "Maybe, it's the way in which the club is decorated that conveys a misleading image. In fact, ironically, what we are doing is spreading positive energy in society. I consult lawyers before organizing the matches, and the government is encouraging social and business organizations to organize clean sporting events."
An audience member called Peng was keen to experience the thrills for himself. "I really want to fight, even though I have no experience or training. Watching the bouts just makes my heart pound," the 28-year-old sales manager said.
According to Yang, although the fights are hot and bloody affairs-every blow can prompts a chorus of shouts and applause from the audience-the participants always shake hands and make friends afterward.
Emotional fighters always lose because their skills and judgment are affected by their feelings, he said.
As an archery enthusiast, Xiao Mo, a costume designer in his 20s, has good upper-body strength, but that didn't stop him suffering a three-round defeat at the hands of a 30-something lawyer who boxed under the name "1942".
Breathless and bathed in sweat, Xiao was too exhausted to speak as his friends supported him when he clambered slowly out of the ring. "I don't think it's dangerous. It's interesting. He just wanted to try," said Xiao's wife, who watched the bout impassively, wiping the sweat from her husband's face during the breaks between the rounds.
Restoring the martial spirit
Yang said that some critics believe that Chinese people have lost their martial spirit, and martial arts have drifted farther and farther away from the lives of the general population, which is an important reason for the club to exist.
"There were people from every corner of the globe except China in the Tiger boxing camp in Thailand. That's because the Chinese all elbow themselves into casinos, ladyboy shows, restaurants and shops," he said.
He admitted that he felt humiliated when his coach put him in the weakest training group just because he was Chinese. However, after beating a European boxer, Yang was promoted to a stronger training team.
"Chinese people should resume the old tradition of practicing martial arts, particularly the children. Many Thai children start doing Thai boxing at 5 or 6 years of age," he said.
"If the police ever close down our business, we will make it a free exercise site for fight lovers."