Poverty alleviation, development and cultural exchanges are byproducts of efforts to better educate tens of thousands at inland schools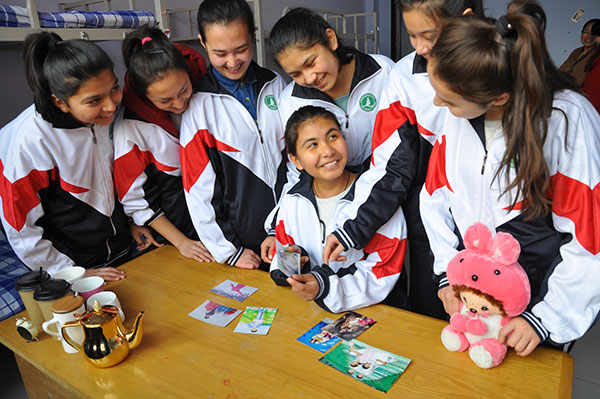 Students from the Xinjiang Uygur autonomous region look at photographs in their dormitory at Rizhao Experimental High School in Shandong province. A total of 49 Xinjiang students, including 19 from different ethnic groups, have studied at the school since October 2014. LIU MINGZHAO/CHINA DAILY
Mardan Mamat, a basketball player dubbed "the little Jordan" by his classmates, has been studying at No 66 Middle School in Urumqi since last year as part of a massive project to offer more educational opportunities to rural students in the Xinjiang Uygur autonomous region.
The tall 14-year-old, who is studying 1,000 kilometers from his home in Xahap township of Yecheng county in Xinjiang's Kashi city, has more than hoop dreams. He may never rival NBA great Michael Jordan, from whom he draws his nickname, but he can have Jordan's work ethic in the classroom.
"Born in a poverty-stricken rural family, my parents, who are farmers, hoped I would have a better life by studying hard," Mardan said.
Mardan dreams of going to Shanghai to attend high school and Beijing-based Tsinghua University for college. He understands he will need to diligently apply himself to his studies if he is to fulfill his dreams, but he knows the opportunity is there.
To give students in rural, poverty-stricken areas equal access to a good education, the Xinjiang government created a junior middle school education program in 2004 to send selected primary school graduates to junior middle schools in other Xinjiang cities for further study.
By the end of last year, 71,800 such graduates had studied in 16 cities in the autonomous region, education department records showed.
Successful older students have been sent even farther away through a separate program started in 2000 to enroll junior middle school graduates in high schools in 12 more-developed inland cities such as Beijing, Shanghai and Tianjin.
The program expanded over the years and students now attend 93 inland high schools in 45 cities, authorities said.
Nearly 39,000 students have graduated from the inland high schools, and about 95 percent of them have furthered their studies at inland universities, said Sun Qi, vice-head of Xinjiang government's education department. More than 34,000 more Xinjiang students are still in the program. All of the Xinjiang students' school expenses are covered by the government, making participation possible for students who otherwise would find an education beyond their homes too costly.
The program offers other benefits as well, which are more intangible, but no less important, such as cultural exchanges between classmates that bring a greater understanding of how other people live.
Students are also expected to bring the skills and talents they've nurtured at schools outside the region back home, where they can contribute to Xinjiang's development. More than 16,400 Xinjiang students have already graduated from inland universities.
Marjan Belik, a sophomore at Nanjing University, has benefited from both programs.
An ethnic Kazakh from Tacheng prefecture in Xinjiang, Marjan is majoring in bioscience and international trade at the university based in the capital of East China's Jiangsu province.
She finished her junior middle school in Xinjiang, just as Mardan is doing, and attended a high school in Fujian province.
"When I was a sophomore in a Fujian-based high school, I had a dream of becoming a diplomat after I saw a Chinese female diplomat on television who impressed me very much," Marjan said. She now also spends much of her time studying English and Russia.
Sun said most students choose to return to their hometowns after graduation, "giving the region's social and economic development a strong push with their talent".
"As most of the students are from the poverty-stricken areas of Xinjiang, education could be one of the most effective ways to pull them out of poverty," said Yu Zhaoquan, an administrative official at Mardan's school.
Sun said the programs have had a profound influence on the students and those who get to know them and their culture in and out of the classroom.
"The students bring the real Xinjiang to the people of the inland provinces and get better knowledge of the other provinces of the country," Sun said.
Yue Ke, a teacher at the Anhui Automobile Industry School, said he has witnessed many stories of friendly exchanges. There also are opportunities for these students to study at technical secondary schools in inland provinces.
The technical secondary school based in Hefei, Anhui province, has been recruiting students from Xinjiang since 2011, two years before Yue started to work there.
"Every time they come to the school from their hometowns, the Xinjiang students of different ethnic groups bring the local specialties to their classmates here, who also give their own in return," Yue said.
"I often see classmates of different ethnic groups hug each other with tears in their eyes when the Xinjiang students depart as graduation finally comes," Yue said.